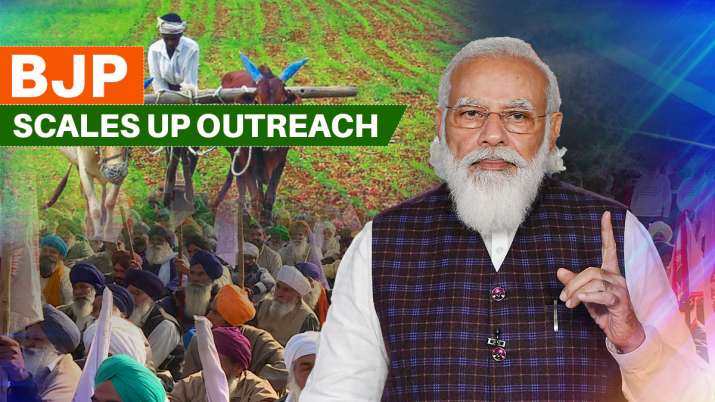 Prime Minister Narendra Modi on Friday castigated the opposition parties as he accused them of spreading lies on the new farm laws. Addressing the farmers via video-conferencing, he said that some people are spreading myth and lies that land will be taken away if farmers enter into contract farming. He said that "some parties pushing political agenda by opposing new farm laws".
"Some leaders are busy in furthering their own political ideology in name of farmers' protest," the PM said in his address after releasing over Rs 18,000 crore to more than nine crore farmers under 'Pradhan Mantri Kisan Samman Nidhi' scheme. With the push of a button, PM Modi enabled the transfer of money at an event which the ruling BJP made into a mega exercise to reach out to farmers by having its leaders interact with the farming community at more than 19,000 venues across the country and also listen to the Prime Minister's address.
READ MORE: PM Modi releases over Rs 18,000 crore to more than nine crore farmers
PM Modi released the instalment of Rs 2,000 to every farmer on the birth anniversary of former prime minister and BJP stalwart Atal Bihari Vajpayee, which is every year celebrated as "Good Governance Day" by the ruling party. Under the PM-KISAN scheme, a financial benefit of Rs 6,000 per year is provided to small and marginal farmers, payable in three equal instalments of Rs 2,000 each. The fund is transferred directly to the bank accounts of the beneficiaries. The programme comes amid protests by various farmer unions against three farm laws recently enacted by the Modi government. The government has insisted that these reforms are in the interest of farmers.
ALSO READ: 'Half truth, Centre has done nothing to help Bengal farmers': Mamata counters PM Modi
PM Modi said that Atal Bihari Vajpayee used to consider any form of corruption a national blight. "Money sent from Delhi now for citizens neither gets devalued nor ends up in wrong hands," he said in a veiled reference to former PM Rajiv Gandhi's comment wherein he said that out of one rupee spent by the government for welfare of the downtrodden, only 15 paise thereof actually reaches those persons for whom it is meant. 
Bengal farmers deprived of PM-KISAN
He also lashed out at Mamata Banerjee-led government in West Bengal while alleging that they have destroyed the state and was doing politics by stopping over 70 lakh farmers of the state from getting benefits of the Centre's flagship PM-KISAN scheme under which Rs 6,000 is being provided every year. The PM wondered while there were agitations against the new farm bills, no protests were visible against West Bengal's decision of not implementing PM-Kisan scheme.
"Around 70 lakh farmers of West Bengal are not getting the benefit of this scheme, which is fully funded by the Centre," he said.
PM Modi said the Mamata Banerjee government has destroyed West Bengal and was playing politics by stopping benefits for farmers in the state. He said the entire country is benefiting from the PM-KISAN programme, but only one state, West Bengal, has not implemented this scheme.
"As a result, over 70 lakh farmers are not able to take benefit of this scheme and this money is not reaching them," he said, adding that this is because of political reasons.
ALSO READ: No corporate can snatch away farmer's land till Modi is PM: Amit Shah
No mandis in Kerala, why no protests over it
"Those rejected by electorate are now indulging in event management for publicity. People won't be misled," he said.
"There are no APMCs and mandis in Kerala. So, why are no protests in Kerala? Why don't they start a movement there? But are only misguiding the farmers of Punjab," PM Modi
Explaining further, he said that farm reforms became necessary because poor farmers, who are over 80%, were getting poorer during rules of earlier governments. 
"Our government has made more crops eligible for minimum support price benefit and given a record amount of money to farmers," the PM said.
PM Modi underlined that the government is making life easier for farmers in villages. "Those making big speeches today did nothing for farmers when they were in power," he said, adding that the NDA government connected over 1,000 mandis online, where more than Rs 1 lakh crore of trade has already happened.
He said that some people feigning concerns about farmers' land. He said "we all know about those whose names came up in media for land grabbing".
PM Modi said darmers had some apprehensions about new laws, but people with political agenda came in between and introduced new unrelated demands. He added that those with political agenda are not letting farmers engage in dialogue with government to address their concerns.
He added that the government is willing to engage with even those ideologically against us, but talks must be based on issues, facts and logic.
Thousands of farmers, mostly from Punjab and Haryana, are currently staying put at Delhi's borders with Haryana and Uttar Pradesh in protest against the Farmers' Produce Trade and Commerce (Promotion and Facilitation) Act, 2020, the Farmers (Empowerment and Protection) Agreement on Price Assurance and Farm Services Act, 2020 and the Essential Commodities (Amendment) Act, 2020.
Farmers have expressed apprehension that these laws would pave the way for the dismantling of the minimum support price system, leaving them at the "mercy" of big corporations. However, the government has maintained that the new laws will bring farmers better opportunities and usher in new technologies in agriculture. The government argues that the three farm laws will remove the middlemen and allow farmers to sell anywhere in the country.