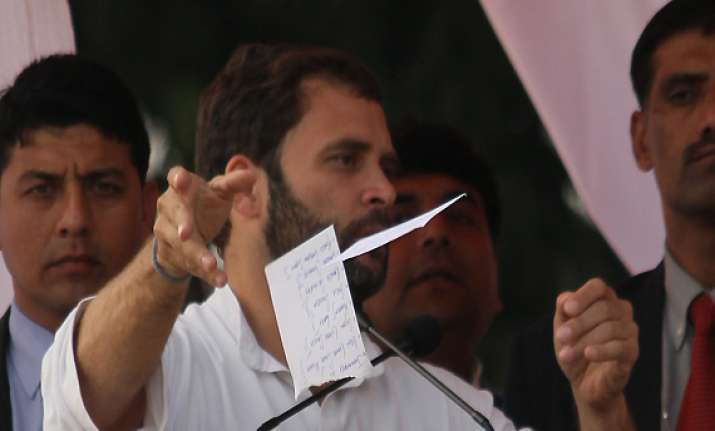 Lucknow, Feb 16:

Scene: Rahul Gandhi tearing up a piece of paper.
Place: DAV College, Naka Hindola, Lucknow
Date: Feb 15

It has now come to light that the piece of paper which Congress leader Rahul Gandhi tore up on Wednesday afternoon at an election rally, was not a list of poll promises of Samajwadi Party or BJP, but it contained names of Congress leaders.




This is how the act progressed.




Rahul says, SP, BSP governments only made promises in the last 22 years.




He takes up the piece of paper as if it had a list of election promises, said, "Bhaiya, kisi ne kaha rozgar denge, berozgari bhatta denge, laptop denge, Hum aapse koi vayda karne nahin aaye hain."




He then tears up the paper into four pieces.




After the rally was over, the four pieces of paper were joined together. It had the following names:

1- MOTI LAL VORA JI
2- RITA BAHUGUNA JOSHI
3-RPN SINGH JI
4-RASHEED MASOOD
5-JAGDAMICA PAL
6-ARUN KUMAR - SANJAY MISHRA
7-SHYAM KISHOR SHUKLA
8-NEERAJ BORA
9-FAKIR SIDDIQUI
10-RAMESH SRIVASTAWA
11-GAURAV CHAUDHRI
12-LAST NAME IS NOT CLEAR...

End of act.

With Rahul Gandhi drawing flak from SP and BJP for tearing up a list of poll promises by opposition parties, Congress today said his act was the "best way" to send across the message that assurances were to be kept and not forgotten after elections.

"Rahul has merely said unless we build our credibility and do not fulfil the poll promises, these are like torn papers. What is wrong in it?" Information and Broadcasting minister Ambika Soni told reporters here. 

She said Rahul's act was the "best way" in a public meeting to send across the message that politicians should honestly fulfil the commitments that they make otherwise, these promises are nothing more than a torn paper.

Rahul's paper tearing act at an election meeting in Lucknow yesterday drew a sarcastic reaction from the BJP and Samajwadi Party.

While BJP termed the incident as "illogical", SP taunted Rahul saying that he may now jump from the stage to vent his anger.

"Rahul seems angry. Earlier he used to get angry by folding hands, then he got angry by tearing up paper. Who knows, next time he might jump off the stage in anger," SP's Akhilesh Yadav said at Amethi in Uttar Pradesh. 

Meanwhile, BJP spokesperson Ravishankar Prasad in Ghaziabad said, "It is an illogical act...It will do no magic to attract voters."