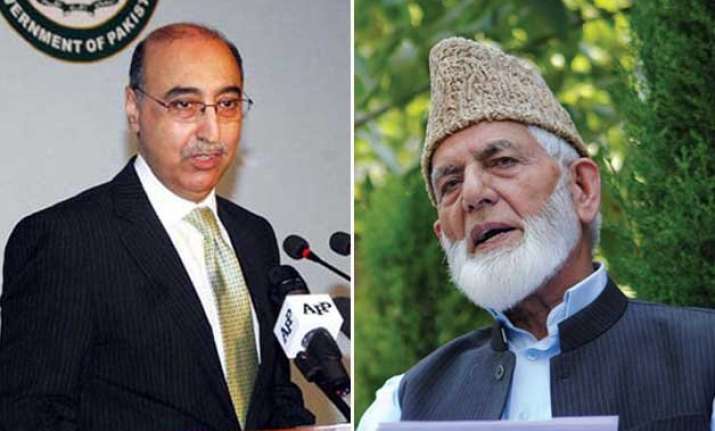 New Delhi: Abdul Basit, Pakistan High Commissioner to India, met Kashmiri separatist leader Syed Ali Shah Geelani on Monday and reportedly briefed him about the issues discussed between India and Pakistan during Foreign Secretary S Jaishankar's visit to Islamabad.
Reports suggest that the two also discussed various developments in Kashmir including the release of separatist Masarat Alam. The meeting lasted for more than half an hour.
Basit apprised Geelani on the issues discussed during the visit of Jaishankar last week, seven months after India had cancelled the Indo-Pak dialogue over the Pakistan High Commissioner's consultations with Kashmiri separatists.
With BJP-PDP government in Jammu & Kashmir, they discussed the political developments in the state.
Basit also invited him for the Pakistan Day on March 23.
After the meeting, Geelani said he told Basit that Kashmir was the main issue and if it was resolved, the other issues will also be resolved easily.
The opposition has already demanded an explanation from the government on the issue. Senior Congress leader Rajeev Shukla said, "Government must lodge its protest against this. Such meetings cannot be allowed."  
Congress leader form the Valley, Saifuddin Soz said, "Instead of holding SAS Geelani responsible, Government of India should confront Pakistan over this."
Jaishankar's visit — a part of Prime Minister Narendra Modi's SAARC Yatra initiative — came long after Indo-Pak talks were derailed after Basit had met Kashmiri separatist leaders in August last year.
The Modi government had then called off the secretary-level talks scheduled between the two countries as a mark of protest over Pakistan envoy's gesture and has since maintained that its neighbour either talks to India or separatists.
Jaishankar, during his Pakistan visit, had discussed bilateral relations and raised the issue of ceasefire violations in Kashmir.
Octogenarian Geelani has been in Delhi for the last three months under medical advice. He has been advised to avoid the harsh winter of the Kashmir Valley.