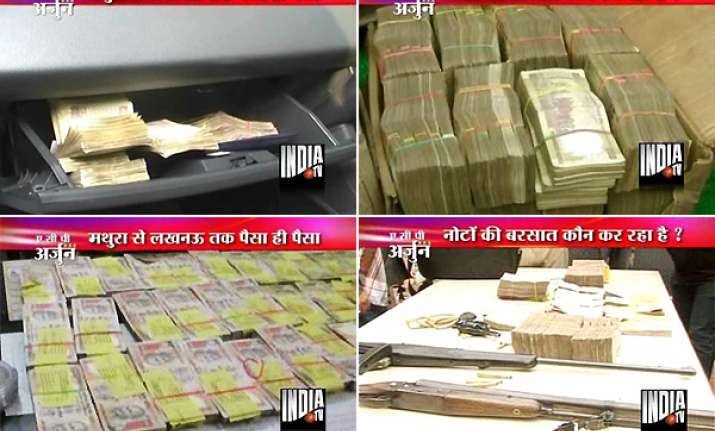 Noida/Ghaziabad/Kanpur/Rampur, Jan 10: The Uttar Pradesh police, in order to satisfy the Election Commission, has even begun to seize bank cash being transported in security vans in its drive to unearth black money.

On Link Road, Ghaziabad on Monday afternoon, police stopped four cash vans belonging to Brink Arya Services, a company that provides security for transporting bank cash to ATMs, and seized Rs 12 crore 28 lakh cash.

Most of the money belonged to ICICI Bank and were collected from different branches of the bank in Delhi and were being transported to the Bank's Noida head office.

Police was told that the vans carried cash from some other banks too, but the supervisor had no valid papers. The Income Tax department has been informed.

In Ghaziabad itself, Rs 65 lakh cash was seized from a Tata Safari on Monday in Mussorie. The cash belonged to Bank of Baroda, and was being transported from its Parliament Street branch in Delhi to Pilkhuwa, Ghaziabad.

Police claimed, the van supervisor Santosh Soni belonged to SIS Security services did not have valid papers, and the money was deposited with Income Tax officials.

In Indirapuram, police stopped a Santro car being driven by an engineer and found Rs 20 lakh cash in a bag.

The engineer told police he lived in Shipra Sun City and had withdrawn the amount from HDFC Bank and taking it to his home. The cash was seized as police says the engineer's version was not credible.

In Greater Noida, police intercepted two cars and bagged Rs 11.5 lakh cash.

In Dankaur, Rs 7 lakh cash was found from a car, while Rs 4.5 lakh cash was found from two persons in a car in Surajpur. Police says, in both cases, the carriers could not give credible information about the cash.  Police have handed over the money to I-T department.

Similarly, UP police seized Rs 93 lakh cash in Muzaffarnagar, Rs 22 lakh cash in Kanpur, and Rs 4 lakh cash in Rampur during checking.

Mahesh Kumar, a businessman from Panipat was arrested by Muzaffarnagar police while bringing Rs 13 lakh cash in his Swift car.

In Prabuddha Nagar, four persons from Haryana, Surta ram, Subhash chander, Ramkumar Ishar Singh and Subey Singh were arrested while going to Saharanpur with Rs 80 lakhs cash in plastic packets and two pistols.

The accused said they were property dealers and were going to Saharanpur for a land deal.

In Kalyanpur area of Kanpur, Rs 17 lakh cash was seized from a Maruti car during checking. The cash was hidden beneath the driver's seat. Liquor bottles illegally brought from Haryana were also seized. The cash has been handed over to I-T department.

In Sisamau near Kanpur, Rs 5 lakh cash was seized from a car by police.

In Sahranpur, police seized a car no CH01 AJ 2696 in which Rs 25 lakh cash in Rs 1,000 denominations was being transported.

Police in Ghaziabad's Mussorie locality stopped a truck no PB13 K9362 carrying 233 boxes of liquor bottles from Haryana to Uttarakhand.

The liquor consignment was meant for Rudrapur, while the papers showed the truck was carrying shoes. Liquor bottles were found hidden in shoe boxes. Two persons, Subhash and Ashok have been arrested.

Ghaziabad leads other cities of the state in cash seizures.

Police said, Rs 50 lakh cash was seized from a Bolero in Vijay Nagar, Rs 30 lakh cash from an Innova in Muradnagar, Rs 14 lakh cash from a car in Kavi Nagar, Rs 12.75 lakh cash from a car in Sahibabad, another Rs 11 lakh cash from a car in Sahibabad and Rs 15 lakh cash from four other places of Ghaziabad.

Near Lucknow, in Madiyahu, Rs 15 lakh cash was seized from a Safari car by police.

In Noida, Rs 43 lakh cash was seized from a car near Sec 20. Six persons were detained.

In Barabani, Rs 1.37 crore cash was seized from a Scorpio alongwith 10 kg silver bricks. Six pistols were also seized.

In Mathura, Rs 16.82 lakh cash was seized from a motorbike rider, who could not give convincing information about the source of the money.

In Faizabad, Rs 81 lakh cash was seized from aq Xylo vehicle in Bikapur kotwali. Two persons Ashok Soni and Sunil Pandey were arrested.

In Gonda, more than Rs 20 lakh cash was seized from a Maruti car going from Basti to Bahraich. 5.2 kg silver was also seized from the car.