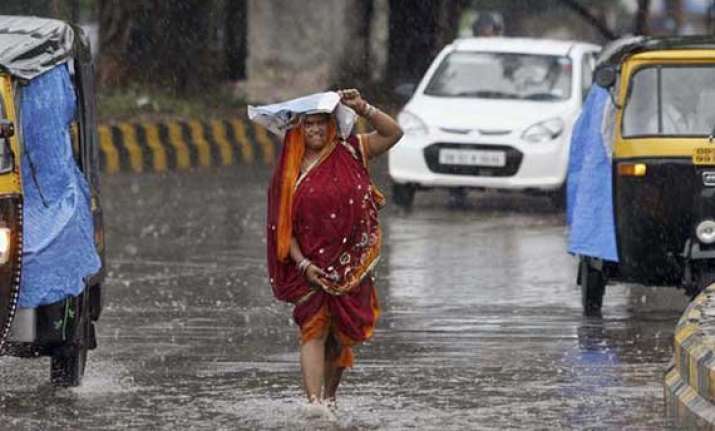 Bhubaneswar: Ahead of very severe cyclonic storm Hudhud's landfall near Visakhapatanam in neighbouring Andhra Pradesh tomorrow, Odisha government today began evacuation of people from vulnerable places and kept army teams and choppers standby for rescue and relief operations besides deploying NDRF and ODRF personnel.
"We have evacuated 7,360 people including 357 members of Bonda tribe in Malkangiri by afternoon and the process is continuing. Evacuation will be complete by tomorrow noon," Chief Secretary G C Pati told reporters after discussing the matter with the Cabinet Secretary through video conferencing.
He said Collectors of eight identified districts of Malkangiri, Koraput, Rayagada, Nabarangpur, Ganjam, Gajapati, Kandhamal and Kalahandi are undertaking evacuation to ensure "zero casualty" goal. Highest number of 5,000 people have been evacuated in Ganjam district, Pati said.
Meanwhile, a nine-year-old girl drowned and a boy was reported missing as a mechanised boat engaged in evacuating people from seaside Satabhaya area in Kendrapara district in view of cyclone 'Hudhud' hitting vulnerable seaside village capsized in Baunsagadi rivulet today, he said.
The residents of Magarakanda village were being evacuated when the mishap occurred at around 11 am today, Kendrapara Collector Pramod Kumar Das said.
The East Coast Railways cancelled train services on Bhubaneswar-Visakhapatanam route tomorrow, the state government stopped bus service in five districts like Ganjam, Gajapati, Rayagada, Nabarangpur and parts of Kalahandi on Sunday in view of the cyclone. The private bus operators have also beem asked not to operate service tomorrow.
"We have appealed the public in the eight identified districts not to venture out of their houses during the landfall of the cyclone and six hours after that tomorrow," Special Relief Commissioner (SRC) P K Mohapatra told reporters adding BSNL had been requested to send SMS to its users urging them not to venture out.
"We are keeping watch on the situation. If required flight operation may be suspended tomorrow," director of Biju Patnaik airport Sharad Kumar said.
Stating that 26 teams (each comprising 40 personnel) 16 of NDRF and 10 teams of ODRF have already been deployed in vulnerable places for rescue work, the Chief Secretary said "We have been assured by the Centre that army teams will be
ready at Raipur in Chhattisgarh and 5 choppers at Kalaikunda in West Bengal for our call."
As IMD has predicted heavy to very heavy rainfall in the eight identified districts during and after the landfall of cyclone Hudhud, Special Relief Commissioner said the state government has managed different reservoirs to accumulate more water.
The reservoirs at Indravati, Kolab and Balimela are being managed by the water resources department, he said.
"We expect high flood in river Bansadhara, Rusikulya and Nagabali rivers in southern Odisha due to heavy rainfall," Mohapatra said, adding Andhra Pradesh government has assured Odisha to keep the barrage at Gota open.
IMD Bhubaneswar director Sarat Sahu said "Odisha will receive heavy rain during and after the cyclone landfall. Rain could continue till October 14. Besides southern region, the upper catchment area of river Mahanadi could also get heavy rain as the system would move towards Jharkhand."
Noting that wind speed in Odisha's five districts like Ganjam, Gajapati, Rayagada, Nabarangpur and Kalahandi could be 100 kmph to 120 kmph with gusting speed of 130 kmph, he said rest of Odisha could experience wind speed at 80 kmph to 90 kmph with gusting of 100 kmph.
Asked whether any possibility of the cyclone changing direction, Sahu said "Though there is no such apprehension, one should watch the movement of the system after its landfall."