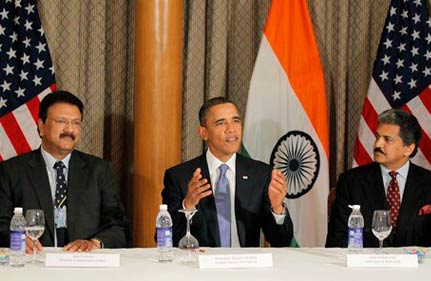 Mumbai, Nov 6 (PTI) US President Barack Obama today announced that "several landmark" deals worth USD 10 billion (nearly Rs 44,000 crore) have been reached between the two countries for creating about 50,000 jobs in the US.
Expressing confidence that he was absolutely sure that relationship between the two countries was going to be one of the defining partnerships of the 21st century, he asked India to reduce trade barriers, while committing to reciprocate.
"There is no reason why India cannot be our top trading partner (from 12th position now)... I'm absolutely sure that the relationship between India and the US is going to be one of the defining partnerships of the 21st century," President Obama said addressing the US India Business Council meet as he started his three-day maiden visit to India.
"Several landmark deals have been done shortly before my arrival here. Boeing is going to sell dozens of planes to India and GE is going to sell hundreds of electric engines. The deals are worth USD 10 billion and will create more than 50,000 jobs in the US," he said.
Just before the address at USIBC, Reliance Power announced power equipment deal for 2,400 MW plants from GE and low-cost carrier Spicejet announced a deal to buy 33 new generation 737 aircraft from Boeing.
On the occasion, Obama said this was barely scratching the potential and dubbed India as the market of the future where Washington was willing to step up investments, provided uncertainties relating to tariffs and other barriers were taken care of.
Making his visit against the backdrop of electoral reverses on top of economic difficulties, including a high unemployment percentage, Obama spoke about outsourcing and other issues.
He talked of the perception elsewhere of India being a haven for call centres and American retail giants being feared in India as putting small Indian shopkeepers out of business, and said these are stereotypes and ignored realities.
But the reality, he said, was that jobs were being created in both the countries and said India was emerging as one of the fastest markets in the world with one of the largest workforce.
India-US trade stood at USD 36.5 billion in 2009-10 fiscal and the two countries aim to double trade in the next five years.
Describing India, which receives about 8 per cent of its total foreign direct investment from the US, as a defining and indispensable partner of the 21st century, Obama said that Americans have helped build India during the days of agricultural revolution like the Indians helped build America.
"Today, your country is one of the fastest growing economies of the world" and the pace of the country's progress in the last two decades is an achievement, he said, referring to end of the 'Licence Raj' and embrace of open market economy.
"You have created one of the largest middle-class (population) of the planet," he said, adding that India's rising growth has made it one of the largest economies of the world.
"Increase in trade and commerce was a win-win proposition for both the nations," Obama said. In 2010, trade and investment ties was not just a one-way street, it was a dynamic two-way relationship creating jobs and growth in both the countries.
Already, American exports to India has gone up substantially with even Harley Davidson motorcycles dotting the Indian roads. "Soon, there will be more."