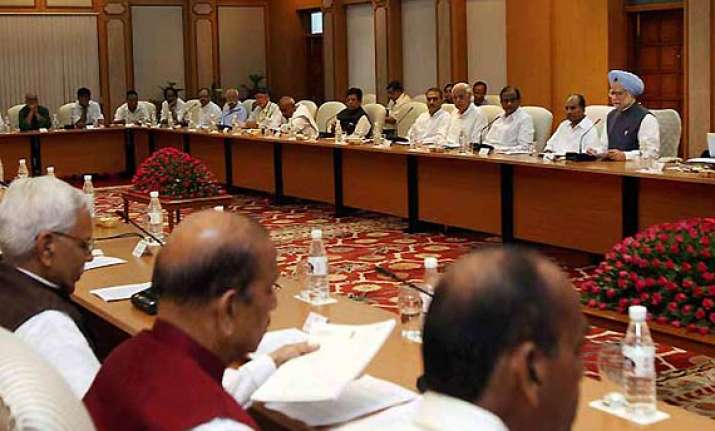 New Delhi, Dec 14: All-party meeting tonight failed to reach consensus on Lokpal Bill with parties voicing divergent views on key elements like inclusion of PM and lower bureaucracy, even as Prime Minister Manmohan Singh sought cooperation to ensure its passage during the current session.

Singh said the "momentous" Lokpal Bill should not become a subject of party politics as the government was keen to get it passed in Parliament based on consensus that is driven by the House as the "custodian of legislation".

Seeking "guidance and cooperation in this matter of paramount importance", Singh said, "I am personally keen that this momentous legislation should be passed on the basis of consensus among all parties as far as possible and that this should not be subjected to party politics in any way."

The nearly three-hour long meeting, however, saw divergent views being aired by leaders of the parties, with BJP pitching for inclusion of Group C and D employees under the Lokpal, a stand staunchly opposed by CPI.

BJP and other opposition parties also demanded that CBI's investigative wing should come under Lokpal, sources said.

However, both the Left and Right were on the same page with regard to inclusion of PM under the Lokpal, they said.

CPI leader Gurudas Dasgupta said his party feels that Group C and D cannot be brought under Lokpal because there are crores of such employees.

There should be separate mechanism to deal with them, he told reporters.

The Left parties also demanded that Lokpal be accountable to Parliament.

Shiromani Akali Dal (Badal) leader S S Dhindsa said that CBI should be independent but Lokpal should have a say in the selection of the CBI Director.

There was also a strong demand for reservation in Lokpal for scheduled castes, scheduled tribes and other backward classes.

Earlier, while welcoming the leaders, the Prime Minister said the government is committed to implement in letter and spirit a "good and effective" Lokpal Bill that would have a "quick and positive impact in further curbing the cancer of corruption without any adverse effects on the efficiency of our system of public administration."

Asking everyone to "keep the interests of the country foremost in our minds", he said "the government is also keen that we must make all efforts to pass a Lokpal Bill in this very session that is based on consensus and that is driven by Parliament as the custodian of legislation."

He wanted leaders of the parties to indicate how far the recommendations of the Parliamentary Standing Committee meet the sense of Parliament and how far the various provisions are feasible and efficacious.

Today's meeting came close on the heels of consultations held by the Prime Minister with UPA allies yesterday which saw the ruling alliance projecting a united face on the issue.

The Lokpal Bill is expected to come up for consideration in the Lok Sabha on December 20, two days before the Winter Session of Parliament concludes.

There is a talk that the session may be extended by a day and the government could also think of a small session in January next for the purpose.

Anna Hazare has threatened to go on an indefinite fast from December 27 in case the Lokpal Bill was not passed in the current session.

Leader of Opposition in Lok Sabha Sushma Swaraj said the government must bring the Lokpal Bill during the current session itself.

She said her party stuck to its position articulated at the Standing Committee on the contentious issues.  CPI(M) struck a discordant note with CPI on the inclusion of Group C and D employees under Lokpal.  CPI(M) leader Sitaram Yechury said Group C and D employees should be brought under the purview of Lokpal.

However, the government said a separate mechanism was needed for this and "we asked the government to come out with concrete proposals in this regard", he told reporters.

Yechury said his party also wanted the corruption cases handled by CBI to be under Lokpal because without an investigative agency, Lokpal will "not be effective".

To this, the government noted that CBI also handles non-corruption cases, the CPI(M) leader said, adding the government was asked to think about this.

Yechury said the government gave no commitment about bringing the bill during the current session.

LJP chief Ram Vilas Paswan said leaders of various political parties felt that no decision on the Lokpal issue should be taken "in haste" and government should not decide anything "under pressure" as this has "far-reaching impact". 

"A majority felt that the Constitution should be held supreme. There should be no super Parliament," he said.  Paswan said the government has said that it was examining the Standing Committee report on Lokpal and it did not give any commitment on reservation.

On the issue of inclusion of CBI under the Lokpal ambit, he said there was no consensus and various parties had different views on this.

"Our party feels that the CBI should be made into an independent body and should come out of the government's control," Paswan said.

On reservation in Lokpal, he said all parties agreed for this.

"We are happy that no one has opposed the demand for reservation in Lokpal. All parties including BJP supported this," he said.