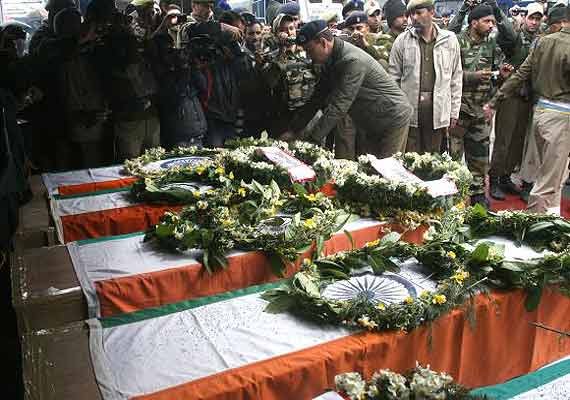 Raipur:  The next of kin of each of the 14 CRPF personnel killed by Naxals in Sukma district of Chhattisgarh, will be paid Rs 38 lakh and every injured security man will be given Rs 65,000, Home Minister Rajnath Singh announced today.  
The Home Minister, who visited the jawans of CRPF a day after a force contingent was attacked by Naxals, said CPI (Maoist) has posed a big challenge and the entire nation has to be united to fight this menace.
"We have more casualty from proxy war than actual war.  This incident will not deter our security forces and they will continue to march ahead in the ongoing operations," he said.  Singh termed incident in Sukma district as very unfortunate and an act of cowardice.  
He said bodies of those martyred have been brought here and all arrangements have been made to send them to their families."All jawans who have been hospitalised are out of danger.  I am glad that the determination of the hospitalised jawans is still intact. I am paying tribute to the bodies of the departed soldiers and offering condolence to the family members," he said.
The Home Minister said the operation was on in Sukma for the past five days and in such remote areas, the danger of Maoist attack was very high. "But our brave jawans fought with national spirit and fulfilled their duty. I salute this spirit amd salute their bravery," he said.