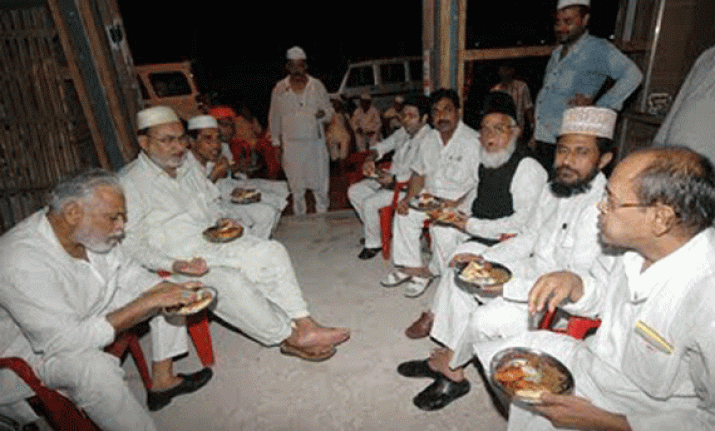 Mumbai, August 8: Upset over innocent Muslim youth still behind bars, members of the Muslim community on Sunday decided to boycott the Iftaar parties given by the chief minister, the police and political parties, reports DNA.

The decision was taken in a meeting held at the Imambada, Dongri, members of prominent Muslim organisations such as Jamaat-e-Islami, Jamiat Ulema (both factions), Maulanas from Malegaon, Jamiat Ulema Hind, NGOs, vice-chairman of the state minorities commission Abraham Mathai and producer director Mahesh Bhatt.

"We have passed a resolution to boycott the chief minister's Iftaar party after meeting him on August 13," said Maulan Mustaqeen Azmi, president of Jamiat Ulema (Arshad Madni faction). The groups had gathered to talk about the role of NIA and judiciary in the backdrop of Malegaon blast investigations.

The boycotting will, however, depend largely on the groups' reaction after they meet the CM on August 13 before the Iftaar party.

"We will also expand our legal cell so that it helps us fight cases properly. People who are defending the accused do not turn up and the public prosecutor always toes the government's line," said Maulana Abdul Azhari of Maulana Azad Islamic Centre in Malegaon.

He said the religious leaders should be more vocal about the bias in the judiciary and the police when it comes to investigation. "A situation is created where Muslims are only left defending all the time. If 25% of the population is only defending, how will the nation progress?" asked Aslam Ghazi, general secretary of the Jamaat-e-Islami.

A section of the Muslim community continues to feel that the nine youth who were arrested over the 2006 Malegaon blast should be let off as Aseemanand had confessed to the crime.

"There is hurt particularly after two accused from the right wing group were let off on bail. Muslims were happy when Aseemanand confessed and when AndhraPradesh released an accused of the Hyderabad bomb blast.

An expectation was that these too will be released but there is no expedition of the trial," said Azimuddin Syeed, who runs an NGO Movement for Human Welfare.