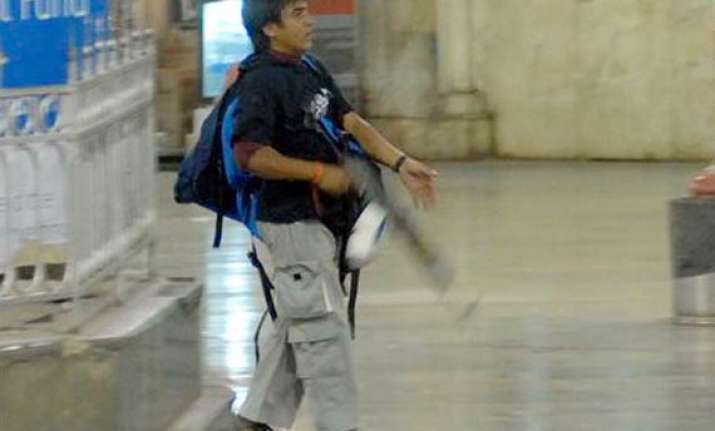 Mumbai, Jul 13: Were today's synchronised blasts here a birthday gift for 26/11 terror attack convict Ajmal Kasab?

Born on July 13, 1987 in Pakistan, Kasab was one of the ten terrorists who carried out the three-day long attacks on the metropolis which began on the evening of November 26, 2008 and left 166 people dead.

Three blasts rocked the busy markets of Dadar, Zaveri Bazaar and Opera House today, which also happens to be Kasab's 24th Birthday.




Dressed in a cargo and black T-shirt, Kasab unleashed a rein of terror at Chhatrapati Shivaji Terminus railway station and Cama Hospital by opening fire from his automatic assault rifle.

The only attacker left alive after the carnage, Kasab has been languishing in Arthur Road prison here and was awarded death sentence by a trial court which was upheld by the Bombay High Court.

In February this year,  Indian census officials went to Arthur Road jail  where they included Kasab and 101 other foreign inmates in the census.




''We have 102 foreign inmates in our prison. The enumerators came to the prison but they were not allowed to visit Kasab,'' said Arthur Road jail superintendent Ramesh Dhamne. ''Except for a few police officials who have permission to enter Kasab's cell, nobody is allowed to go inside his specially designed cell,'' Dhamne added.

The enumerators were provided with the information by jail authorities. The prison staff opened Kasab's file and answered questions related to him.

The census officials wrote Kasab's date of birth as July 13, 1987, and his address as Faridkot in Punjab, Pakistan. The enumerators filled 'school dropout' under the qualification section, and 'unemployed' in the profession slot.




Kasab was captured on November 27, 2008, at Girgaum Chowpatty. He, along with his accomplice Abu Ismail, had killed more than 50 people at CST, Rang Sharda lane and Metro Cinema. Kasab has been kept away from all the other prisoners in a 6x10 ft cell, which is guarded by cops round-the-clock.

Kasab's form was the first the enumerators filled. ''Perhaps, the census officials wanted to complete the dreaded criminal's form as soon as possible,'' a source said.