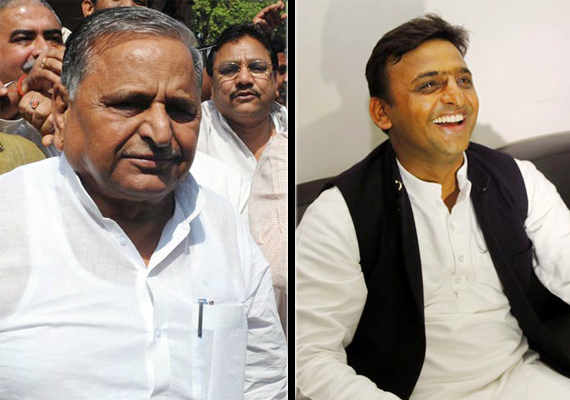 Lucknow, Mar 23: Apprehending early general elections, Samajwadi Party supremo Mulayam Singh Yadav today asked Uttar Pradesh Chief Minister Akhilesh Yadav to implement the party manifesto and bring visible changes within six months.
"Changes should be visible in six months and the manifesto should be implemented within a year as there is no guarantee when Lok Sabha elections are announced after that," Mulayam said addressing party leaders and workers at a function to mark the 102nd anniversary of Dr Ram Manohar Lohia here.
"Lohia considered betrayal of promises as corruption," he said advising early implementation of the manifesto.  
The SP supremo said that he did not become the Chief Minister as he wanted to monitor the working of the government while remaining among party workers.
He asked Akhilesh that people should get time for direct meeting with the CM even if it is only for an hour in a week.  Akhilesh said that people have given the SP a chance to serve by giving a majority and the party would try to prove itself.
He said that the government would take decisions by keeping farmers, poor and villagers at the centre.  
Commenting on the previous Mayawati government, Akhilesh said, "the government which has been removed used to construct parks of stone and install statues of a living CM...our government will not do any such thing".  
He said that UP has lagged behind in every sector, including roads, education and health.
Alleging rampant corruption and price rise in the previous government, the CM said that SP has to come true on the expectations of the people.
Asking party workers to take a resolve to strengthen SP and be disciplined he said that changes would be visible when those running the government and those running the organisation work in tandem.
"Don't become proud...last time this allegation was levelled on the party, despite the fact that the government performed well during that term," Mulayam said while advising workers to be polite and disciplined.
He said that even Madhya Pradesh and Bihar governments were implementing programmes which previous SP governments launched.
The SP supremo also released two books written by veteran journalist K Vikram Rao and Professor Girija Shanker.