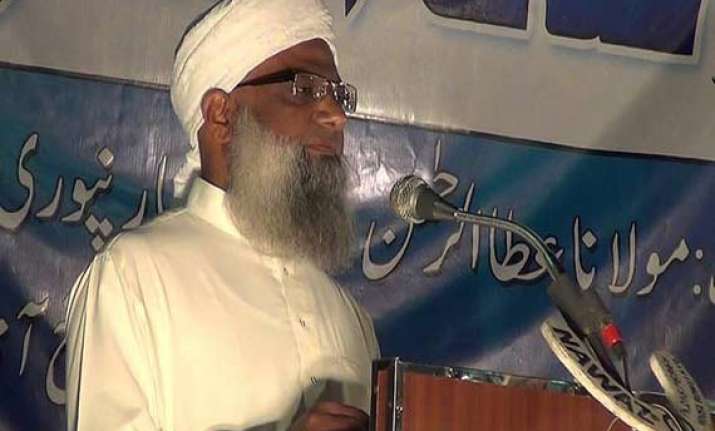 Ahmedabad: In his first interaction with reporters today after being granted bail by the Gujarat High Court three days ago, Hyderabad-based cleric Maulana Abdul Quavi, who faces charges of allegedly "inciting" Muslim youth to avenge Godhra riots, said that he suspected that his arrest was politically motivated.
"I never went underground ever since a case was registered against me by the Crime Branch 11 years ago.  Suddenly, I was arrested from the Delhi Airport. They could have arrested me from my place (Hyderabad). Since it was election time, I believe that my arrest was politically motivated," Quavi told reporters here today at a press conference organized by the Jamiat Ulama-I-Hind.
 Quavi (58), was arrested by the Detection of Crime Branch (DCB), for allegedly taking part in "anti-national activities" with the help of some Pakistan-based terror outfits like Lashkar-e-taiyaba (LeT) along with the Pakistani Inter-Service Intelligence (ISI) to avenge the post-Godhra riots.
Quavi, the founder of Madrassa Jamia Ashraf-ul-Uloom in Hyderabad, was arrested from New Delhi airport on March 24 this year, by a DCB team. DCB had named Quavi as "wanted" for last 11 years under a case filed under the Prevention of Terrorist Activities (POTA) Act.
DCB had also alleged that Quavi had sent "several" Muslim youths to Pakistan-based training camps run by LeT and Jaish-E-Mohammad to spread terror in India.  
To prove his point, Quavi claimed that the city Crime Branch never gave any notice to him to appear before them anytime during the past 11 years. Quavi also alleged that the Crime Branch always knew about his whereabouts but never tried to approach him or arrest him.
"I have been roaming all across the country for my religious work for the last ten years. The police always knew what I say in my public discourses. My life is an open book.
During Ramzan of 2013, I came to Gujarat and visited Vadodara and Dabhel towns, but the Crime Branch didn't bother to approach me," Quavi said.
He claimed that the Jamiat Ulama-I-Hind is a patriotic organization and that he was never involved in anti-national activities.
"I too belong to the Jamiat, which is considered as the torchbearer of communal harmony. Our history shows that we always tried hard to bring peace among people. I always talked about harmony in my speeches. Thus, I see no merit in the charges leveled against me," Quavi said.
"I am not an absconder. The police actually insulted me by arresting me. If they had informed me once, I would have come here to surrender. But, I have faith in the judiciary and I am sure that the truth will prevail in my case," said Quavi, who left for Hyderabad.