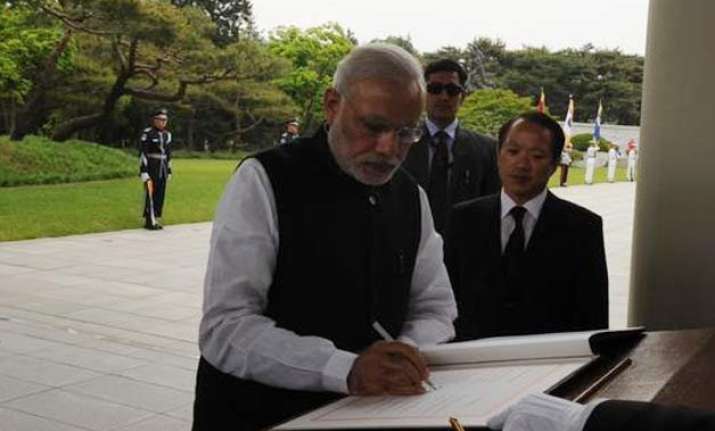 PM Narendra Modi to visit South Korea today
Seoul:
PM Modi will hold bilateral discussions with South Korea President Park Geun-hye. Modi will also be meeting important business leaders.
Rahul Gandhi to begin 3-day Amethi visit from today
New Delhi: Congress vice-president Rahul Gandhi will be on a three-day-visit to Amethi, his parliamentary constituency from May 18-May 20. He will address a public meeting in Kasara village on May 19.
Bribe issue: Court to hear plea against CM Kejriwal today
New Delhi: A court fixed May 18 for hearing a criminal complaint seeking action against Delhi Chief Minister Arvind Kejriwal for allegedly exhorting voters to take bribe from Congress and BJP and vote for AAP in the assembly polls.
Prez Pranab Mukherjee to address Uttarakhand Assembly today
Dehradun: President Pranab Mukherjee will address the Uttarakhand Assembly, as the state convenes a special two-day session beginning today.
India to assume presidency of WHA in Geneva after 19 years
New Delhi: After a gap of 19 years, India will again assume presidency of the 68th Session of the World Health Assembly (WHA), the top decision-making body of the World Health Organisation, beginning today. Union Health Minister J P Nadda will preside over the WHA session and lead a high-level Indian delegation to the Assembly, which is slated to take place in Geneva from May 18 to May 27.
Draupadi Murmu to take oath as new Jharkhand Governor today
Ranchi: The Governor-designate of Jharkhand Draupadi Murmu will take oath of office today.
NITI Aayog website likely to be launched today
New Delhi: The government is likely to launch the website of NITI Aayog (National Institution for Transforming India) today.
Delhi to comply with 10-year-old diesel vehicle ban from today
New Delhi: The National Green Tribunal on Friday gave authorities in the national capital two more weeks to implement its ban on 10-year-old diesel vehicles. The NGT has put its order on hold till today.