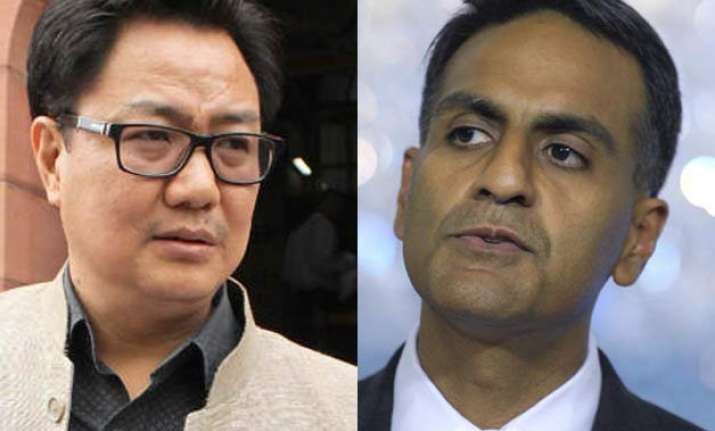 New Delhi: Commenting upon the remark made by US ambassador Richard Verma, Minister of State (Home Affairs) Kiren Rijiju said on Thursday said, "one should not overreact on a subject where government has not gone out of (the) provisions of law".
He said that NDA government is more concerned about 'national interest' and not by 'what USA said' after the US envoy said that that regulatory steps taken against NGOs in India will have "potentially chilling effect".
READ: US Ambassador Richard Verma warns of 'chilling effect' of crackdown on NGOs
As mentioned in an Indian Express report, Rijiju said that there is no witch-hunt against NGOs and there were laxities on part of the previous government in implementation of laws due to which the NGOs were safe until now.
In the last few months, the Home Ministry cancelled the Foreign Contribution Regulatory Authority (FCRA) registration of Greenpeace, and put 16 foreign donors including Ford Foundation on its watchlist and cancelled the registration of 8975 NGOs for violation of norms.
READ: Govt puts Ford Foundation under MHA watch list
When asked about the Ford Foundation charge that whether he knew that two NGOs belonging to social activist Teesta Setalvad were allegedly using its funds for "spreading communal propaganda", Rijiju said that "they are liable. They are the source. Ford should have put the stipulation (on the two NGOs) ….that money must be used for the purpose for which it has been granted."
"Do not divert the money for a particular purpose", he added.
Rijiju justified the actions taken aganst NGOs and said that "whatever action" has been taken against NGOs was "based on the actions of the NGOs itself".
He said that all the NGOs should conduct themselves in conformity with the provisions of law. And if they do not act in the manner prescribed in the rules and conditions, there is no reason for the home ministry to place any restriction on them.
On asking about Greenpeace, Rijiju said, "I don't want to name anybody. If anybody violates law, it is incumbent upon the Government of India to act. And it is also incumbent upon NGOs to follow norms. The responsibility and onus is on both. We should also not act on anything which is ultra vires (beyond its power) and the NGOs also should not act in a way which is illegal."
READ: With funds drying up, Greenpeace India stares at shutdown within a month
The Minister also slammed the claims that BJP is selectively going after NGOs. He said that there is no stated policy of BJP to go after NGOs and that we are just following rules and laws.
He said, "Our national interest is supreme. We honour the international commitment; we are not oblivious of international issues."