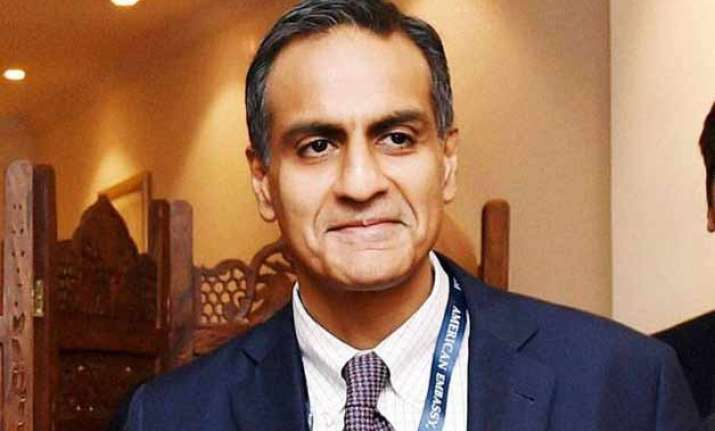 New Delhi: The US ambassador to India Richard R Verma on Wednesday said that the Prime Minsiter Narendra Modi-led government's recent actions on curbing activism might have "chilling effects" on charity organisations run on foreign funds.
After two US based NGOs - Greenpeace and the US Ford Foundation were hit with funding restrictions, ambassador Verma voiced US' concern and said it's important for a democratic country like India to understand NGOs' importance.
Verma's comments came amid reports that India is investigating the finances of Bill and Melinda Gates Foundation run by Microsoft founder Bill Gates.  
Ambassador Verma, while speaking on India-US relationships, said, "I read with some concern the recent press reports on challenges faced by NGOs operating in India."
He added, "A vibrant civil society is so important to both of our democratic traditions, I do worry about the potentially chilling effects of these regulatory steps focused on NGOs."
Verma said civil society organisations were an integral part of the struggle for advances in health, inclusive economic growth, environmental protections, human rights and the strengthening of democracy.
Since coming to power, Narendra Modi's government has come heavily on foreign NGOs as well as foreign funded Indian NGOs. The two biggest NGOs under government watch list are Greenpeace and Ford Foundation.
Modi government has frozen the accounts of Greenpeace, which now faces the imminent danger of closing down owing to paucity of funds. The government has put Ford Foundation on a security watch list.
In an order on April 9, the home ministry froze seven accounts of the environmental NGOs and suspended their licence to get funds from foreign sources. The ministry had cited several infringements of the law that regulates foreign funding of NGOs   the Foreign Contribution (Regulation) Act, 2010, or FCRA.
The home ministry blocked foreign and domestic funding of Greenpeace and suspended its registration for six months. The government justified the decision by saying that the organisation was misusing the funds to block all developmental projects.
Similarly, Ford Foundation, which funds various NGOs, has been barred from giving money to local organisations without its permission and placed it on a "watch list".
The move late last month followed a complaint from the government of the western state of Gujarat over the foundation's grants to an NGO run by a longtime critic of Prime Minister Modi.