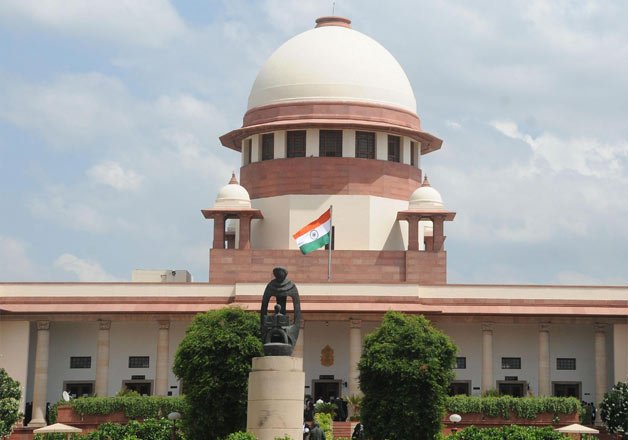 New Delhi: A day after JNUSU president Kanhaiya Kumar was 'manhandled' while being produced in at Patiala House court, the Supreme Court said that it is 'keeping an eye on law & order in Patiala House court and everyone should be careful while giving statements'.
The apex court's observation came after a lawyer alleged in the court that Delhi Police was being pressurised not to oppose bail of Kanhaiya Kumar, facing sedition charge.
Telling the rival counsel that a 'blame game would not help anybody', the court said, "Moderation seems to be the best option." The top court has now posted the matter for further hearing at 2 PM.
In the midst of severe criticism for slapping sedition charges on Kanhaiya, Delhi Police Chief BS Bassi had yesterday said that 'they will not oppose if he applies for bail'. "I am not giving Kanhaiya Kumar a clean chit but if he applies for bail we are not going to oppose it," he said.
The Supreme Court had on Wednesday said that it will be Delhi Police Commissioner BS Bassi's personal responsibility to ensure safety of JNU Students Union president Kanhaiya Kumar, as it was told that he was badly beaten up while being brought to the court premises in police custody earlier in the day.
The court had said that the security of Kanhaiya Kumar and those present in the court room should be 100 percent fool proof, indicating that if Delhi Police can't do it, then it may seek other options.
The court order came as team of six senior apex court lawyers that was sent to Patiala House Court to observe the situation there said they witnessed an "unprecedented" situation with an atmosphere of "fear and terrorising people".
Senior counsel Raju Ramachandran, who is one of the six lawyers in the legal team defending Kanhaiya Kumar, sought court's order for his safety even in jail premises during his 14 days judicial remand granted by a magistrate on Wednesday.