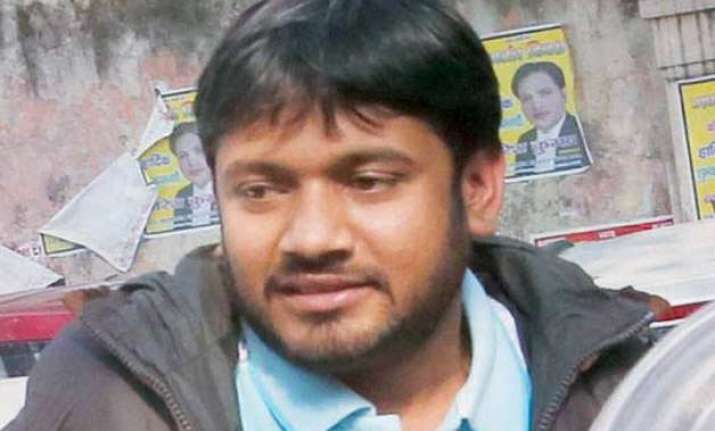 New Delhi: Kanhaiya Kumar, president of the JNU Students Union, today reached the university campus, triggering celebrations among students who had been protesting against his arrest.
Kanhaiya was released from Tihar jail today amid high security after the Delhi High Court granted him interim bail for six months in a case of sedition. 
Students and teachers eagerly awaiting to catch a glimpse of Kanhaiya had gathered at the Ganga Dhaba from where they will take out a victory march to the Administration Block which has become a venue of protest since his arrest on February 12. People also queued up outside Kumar's hostel Brahmaputra with 'dhols' and 'daflis' to accompany him during the march.
Meanwhile, two separate meetings of the students union and JNU teachers association were underway to decide the future course of action. Kanhaiya is expected to address the gathering after the march. However, the university administration maintained the report of the high-level committee has not been submitted to it yet.
"The five-member panel had a deadline till 12 am today. The varsity will take a call based on the recommendations of the panel," a senior JNU official said.
Kanhaiya was granted conditional bail on a personal bond of Rs 10,000 and a surety of the same amount. He was arrested on February 12 in relation to a February 9 event at the JNU campus commemorating the death of Parliament attack victim Kanhaiya Kumar where anti-national slogans were allegedly raised.
The High Court, while granting bail to Kanhaiya, made some stinging observations in its order, likening his alleged offence to "a limb infection".
Beginning her order with a patriotic song, the judge said: "Such persons enjoy freedom to raise slogans in comfort of university campus... without realising that they are in safe environment because our forces are there on the battlefield."
The bench of Justice Pratibha Rani, in its order, held that "the thoughts reflected in the slogans raised by some of the students of JNU who organised and participated in that programme cannot be claimed to be protected as fundamental right to freedom of speech and expression", and that the court would "consider this as a kind of infection which needs to be controlled/cured before it becomes an epidemic".
"Sometimes students who misinterpret freedom of speech need to be cured. Whenever some infection is spread in a limb, effort is made to cure it by giving antibiotics orally... if the infection results in infecting the limb to the extent that it becomes gangrene, amputation is the only treatment... To enable him to remain in the mainstream, at present I am inclined to opt for the conservative method of treatment," the court said.   
The court also asked the JNU faculty to ensure that Kanhaiya does not involve himself in any activity that may be termed as anti-national.
Two other JNU students, Umar Khalid and Anirban Bhattacharya, accused of raising anti-India slogans during the event, are in judicial custody.