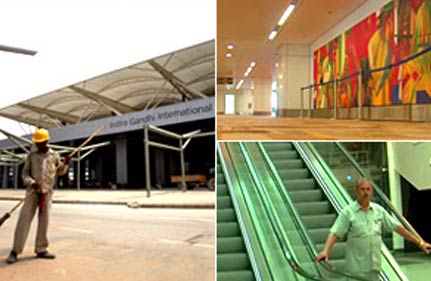 New Delhi, Nov 14 (PTI) Jet Airways and Kingfisher today shifted their domestic operations from Terminal 1D (T1D) to swanky new Terminal 3 (T3) of the Indira Gandhi International Airport here.
Unlike Air India, which faced host of problems leading to inordinate delays and cancellations of flights after fully shifting from T1A to T3 on November 11, shifting of operations by the two private carriers largely remained "smooth".
The national carrier today also faced the problem of delayed flights, largely due to late arrival of aircrafts from other cities, and also cancellation of an international flight to Dubai (AI-747).
Most of the Jet and Kingfisher flights went as per schedule through the morning but some flights got delayed in the later half of the day due to late arrival of aircrafts, an airport official said.
Some of passengers of Jet flights expressed their anguish over delay and had some heated arguments with the staff.
"Jet and its subsidiary JetLite today completed a successful and smooth migration of domestic operations to and from T3. All Jet, JetLite and Jet Konnect flights were on schedule," an airline spokesperson said.
Kingfisher's domestic flights also remained mostly on schedule but the airlines witnessed over a dozen of their flights being delayed.
"By and large, the transition of operation for our domestic flights to T3 went off smoothly, thanks to well coordinated advance planning by all stakeholders involved," Kingfisher spokesperson Prakash Mirpuri said.
The first Kingfisher flight to take-off from T3 was Mumbai-bound flight (IT602) while the first flight to land at T3 was IT 4316 from Jaipur, which landed here at 7.27 am.
Taking cue from AI mess, both the private carriers had asked their passengers to arrive at the terminal building almost two hours before the scheduled departure of the flights.
Meanwhile, after four days of mess, there was some respite for the AI passengers as only a few flights were delayed while one flight to Dubai was cancelled.
Air India today said it had witnessed a 10 per cent increase in passenger booking, despite facing a turbulent shifting.
"Air India has seen a 10 per cent surge in passenger bookings today over Saturday, with number of passengers booked going up from 30,524 to 32,440," an AI spokesperson said.
The national carrier's operations at T3 have stabilised and passengers have welcomed this move from domestic terminal 1A to integrated Terminal T3, he added.
It also claimed that in line with passenger demand, the airlines offering seats on IC coded flights has also gone up from 34,534 to 36,265.