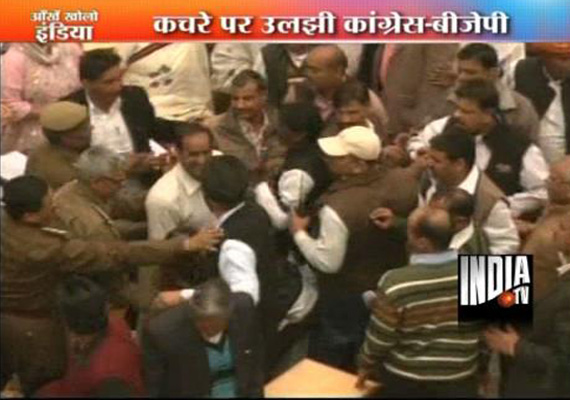 Jaipur, Feb 14 : Haji Nawab Ali, an independent councillor in Jaipur Municipal Corporation on Monday threw a tin of garbage at BJP councillor Roshanlal Saini, the chairman of Sanitary Committee during a House meeting.

Soon after, several councillors including Roshanlal, Shunty and Anil Bamb roughed up Haji Nawag Ali, while Congress councillors came out in support of the independent councillor. 

Security officials managed to bring Haji Nawab Ali out of the house to safety. He later said he did this act to bring to light the negligence on part of Corporation officials in clearing garbage. 

Meanwhile, inside the House, BJP councillors took the tin of garbage and rushed towards the Mayor Jyoti Khandelwal to target her, but the mayor beat a hasty retreat. 

Roshan Lal Saini alleged that the act was done by the councillor at the behest of the mayor.