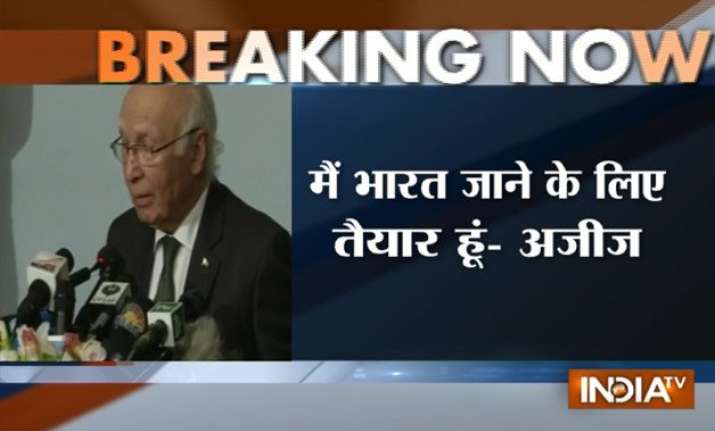 Islamabad: Sartaj Aziz, Pakistan NSA,  today made it clear that he is ready to travel to India for talks with his counterpart Ajit Doval.
However, he said that  Pakistan will not accept any preconditions put forward  by the Indian government.
"On my part I'm still prepared to go to New Delhi for NSA talks without any pre condition," Aziz said.
Aziz made it clear that the talks were not formally cancelled as yet.
"Cancellation is yet not confirmed from either side, so we are ready to go as per schedule without any pre-condition," he said.
Addressing media persons, he said that no serious dialogue with India is possible unless Kashmir is on the agenda.
"As per Ufa statement, we had to discuss all outstanding issues including Kashmir. 'K' word is very much on the agenda," he said.
"Three point agenda including exploring modalities for the talks for all outstanding issues proposed by Pakistan was in keeping with Ufa understanding," Aziz pointed out.
"I urge Mr.Modi to ponder over what I call most important part of Ufa stmnt that India and Pakistan have collective responsibility to ensure peace," he said.
He accused Modi government of putting conditions for resolving what he called 'outstanding' issues with Pakistan.
"India has been trying to talk to Pakistan on its own terms and conditions after Mr Modi took over the reins of power ," Aziz said.
Aziz also accused India of trying to scuttle  the proposed NSA talks the way it did last time with regard to secy level talks.
"Last year India canceled the talks between foreign Secretaries scheduled for 25th August 2014 in Islamabad.The reason for this regretful second cancellation, if it happens, will be the same," he added.
He also said that he will be carrying three dossiers to India including oner on the role of RAW.
"Will carry dossiers carrying information of RAWs involvement in Pakistan," Aziz said.
Aziz also said that Pakistan can not accept the advisory of  Indian government that asked him not to meet Hurriyat leaders. He also made it clear that the arrest of Hurriyat leaders was violation of their fundamental rights.
"It was India which introduced new condition with its advice that Pakistan could not meet Hurriyat leaders.We're very disturbed about arresting of Hurriyat leaders as it's a violation of their fundamental rights, he added.
He also accused India of violating ceasefire along Indo-Pak border.
"We are witnessing continuous ceasefire violations from Indian side.Unfortunate that in past 2 months more than 100 ceasefire violations took place resulting in many casualties on Pak side," Aziz said.
Separatist leader Shabir Shah detained ahead of NSA-level talks
Separatist leader Shabir Shah, who had arrived in New Delhi for the reception with Pakistan NSA Sartaj Aziz scheduled for Sunday, along with 2 other leaders were detained by police.
While leaving for the airport from his Hyderpora residence here, the Hurriyat Conference leader told the media: "The talks must go on to subside the pressure on both sides of the Line of Control."
Shah and other Hurriyat Conference leaders of Kashmir have been invited by the Pakistan envoy in New Delhi, Abdul Basit, for Aziz's reception party.
Srinagar: India and Pakistan talks must go on, said Jammu and Kashmir separatist leader Shabir Shah on Saturday as he left for Delhi to attend Pakistan National Security Advisor Sartaj Aziz's reception party on Sunday.
He brushed aside the furore over his meeting with Aziz ahead of the NSA talks between India and Pakistan, and said: "We have been meeting them (Pakistan leaders) since 25 years, even during the NDA and UPA rule."
Uncertainty looms large over Indo-Pak NSA talks
New Delhi: The NSA-level talks between India and Pakistan hung in the balance with both sides refusing to budge from their stand on the agenda of the talks and Islamabad's invitation to Kashmiri separatists for a meeting with Sartaj Aziz.
There was, however, no clear official announcement regarding the cancellation of the talks from either side but it is clear now that the talks scheduled for Monday will not take place if Aziz meets Kashmir separatists before his talks with Indian counterpart Ajit Doval.
As per the schedule, Pakistan National Security Advisor (NSA) Sartaj Aziz will arrive here on August 23 to hold talks with his Indian counterpart Ajit Doval.
But Pakistan's decision to invite Kashmir separatists ahead of the talks and include Kashmir agenda for talks forced New Delhi to ask Islamabad that it is not the right time to hold talks with separatists.
Pakistan instantly rejected India's advisory against meeting separatists and sought to include Kashmir in the agenda for talks.
It also said that Aziz will indeed meet separatists at a reception to be hosted by Pakistan's High Commissioner in New Delhi, Abdul Basit.
In its reaction, India stopped just short of officially calling off the talks, saying unilateral imposition of new conditions and distortion of the agreed agenda could not be the basis for going forward.
"India has always held the position that there are only two stakeholders in our relationship, not three," the External Affairs Ministry said in the statement.
India maintained that at Ufa, both sides agreed on a 'limited engagement', which included the NSA talks on terrorism-related issues, talks on ceasefire violations and on humanitarian issues. It said it wanted to progress 'step by step', and the NSA talks was the first step.
"India remains committed to discussing issues with Pakistan peacefully and bilaterally. In fact, we took the initiative to engage at Ufa. But unilateral imposition of new conditions and distortion of the agreed agenda cannot be the basis for going forward," the MEA said.
Last year, India had called off foreign secretary talks with Pakistan after the Pakistani envoy invited the Hurriyat leaders for a dialogue ahead of the talks.