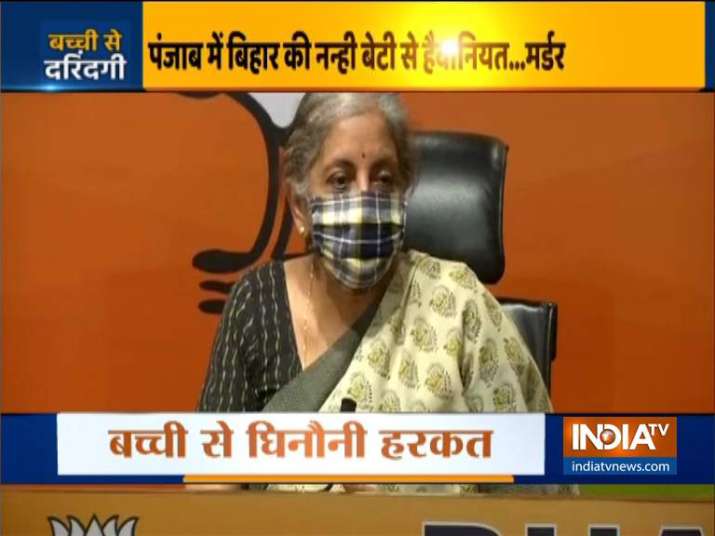 The Bharatiya Janata Party (BJP) on Saturday came out all guns blazing against Congress for its "selective outrage" in wake of the alleged rape and killing of a six-year-old girl, belonging to a migrant family from Bihar, in Punjab. Union Finance Minister Nirmala Sitharaman questioned "tweet friendly" Rahul Gandhi and asked if the incident didn't shake the conscience of the "brother and sister who rush to every place that can help them politically."
In a horrifying incident, a six-year-old girl was allegedly raped, killed and then set on fire, with her half-burnt body found at a home in Tanda's Jalalpur village, a report available with news agency PTI mentioned. Quoting police officials, it said that the accused -- Gurpreet Singh and his grandfather Surjit Singh -- were arrested on the charges of murder, rape and under other relevant sections of the Indian Penal Code (IPC) and the Protection of Children from Sexual Offences (POCSO) Act. 
A 6-year-old child of a Dalit migrant labourer from Bihar is raped, killed and body half-burnt in Hoshiarpur and it doesn't shake the conscience of the brother & sister who rush to every other place which can help them politically, Sitharaman said at a press conference today.
"Not a word from the tweet-friendly leader Shri Rahul Gandhi. No tweets on this, no outrage on this, and no picnic on this. A woman heads the party. Does this kind of selective outrage suits the stature of their party," the BJP leader asked.
"No rape should be politicised. But because we want our political games to be played, we are selective about voicing horror when it is in some states & remain in absolute silence when it is in states governed by Congress party," she further said.
Prakash Javadekar lambasts Rahul, Priyanka
Union minister and BJP leader Prakash Javadekar also accused Rahul Gandhi and his sister Priyanka Gandhi of going on a "political tour" to Hathras in Uttar Pradesh, where a Dalit girl was allegedly gang-raped and who died later, as he questioned the lack of a similar reaction from the two leaders to ghastly crimes against women in Punjab and Rajasthan, which are ruled by the Congress. They go to these places for "photo-op", Javadekar said, referring to the Congress leaders' visit to Hathras in the BJP-ruled Uttar Pradesh. 
"They (the Gandhis) cannot see atrocities against women in the states where it (Congress) is in power. Neither Rahul Gandhi nor Priyanka went there and nor was there any comment from its president, Sonia Gandhi," Javadekar told reporters. He also claimed that the culprits in the rape-and-murder case in Tanda have not been arrested yet and demanded stringent action against them.
Punjab CM directs DGP to ensure 'proper investigation'
Punjab Chief Minister Amarinder Singh has directed DGP Dinkar Gupta to ensure proper investigation into the alleged rape and murder case. The chief minister also asked the director general of police (DGP) to present the challan in the court at the earliest. Meanwhile, Punjab State Women Commission Manisha Gulati, who met the bereaved family Friday evening, sought death sentence for the culprits.
In another development, some unidentified people assaulted the two arrested accused outside a Community Health Centre in Tanda, where they were taken by police for a medical check-up. Police took the accused inside the CHC building and saved them.