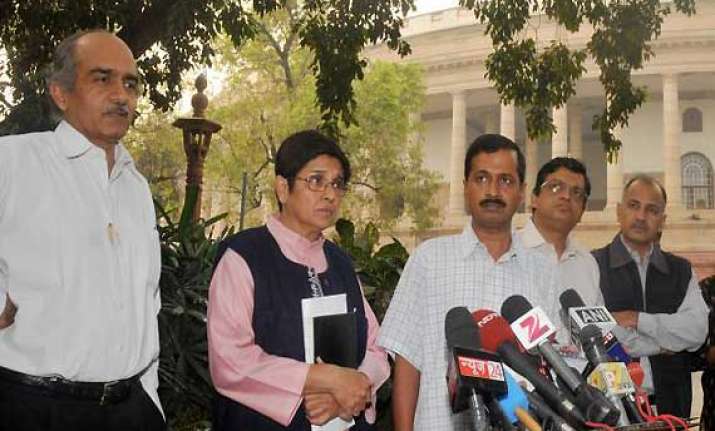 New Delhi, Jun 9: The government today rejected demands of Team Anna to set up a Special Investigation Team to probe allegations of corruption against Cabinet ministers and establishing fast-track courts to hear charges against them, saying the present system was sufficient to deal with such issues.
Responding to a letter by Anna Hazare to the Prime Minister last month, the Prime Minster's Office said the activist has "not submitted any proof regarding the (corruption) charges" against Manmohan Singh in coal block allocation.
"You have not submitted any proof regarding the charges, instead you have said it is not you who is levelling the charges," Minister of State in the PMO, V. Narayanasamy, said in the letter to Anna Hazare.
He said apparently the allegations were levelled based on the "leaked" draft of a CAG report and media reports.
The minister also said the government has considered his demand for a SIT and the suggested terms of reference.
"Keeping in mind that sufficient legal and constitutional structure is available to examine the issues raised by you, your demand cannot be accepted," he said.
Hazare and his close aides had sought setting up of an independent SIT comprising three retired judges to probe the graft charges. In the letter, they had demanded that the SIT should investigate charges against the 15 "corrupt" ministers.
Maintaining that the UPA government has "not at all" interfered with functioning of agencies like Enforcement Directorate (ED), Central Board of Direct Taxes (CBDT) and Comptroller and Auditor General (CAG), the PMO said  Hazare's impression about CBI and its functioning is wrong.
"The CAG's report (on coal block allocation) has not been placed before Parliament. When the report is tabled, the government will present its response before the PAC (on the subject) as per the Constitutional process,"  Narayanasamy said, adding that CVC has already directed the CBI to hold preliminary inquiry based on a complaint lodged by an MP in this regard.
The PMO also rejected  Hazare's contention that the Supreme Court, High Courts and CAG had on several occasions have charged the ministers with wrong doings. "It is not only unclear but unacceptable," Mr. Narayanasamy said in his response.
He said in a bid to bring more integrity in government functioning, the government has incorporated suggestions received from various sections of the society.
"The government is committed to reduce corruption and bring more transparency. The government is also committed to ensure that such a situation does not arise when civil servants refuse to take decisions fearing baseless allegations. It will slow down the pace of development," the letter said.
Referring to  Hazare's allegations that the government has scuttled the CBI probe against Samajwadi Party president Mulayam Singh Yadav,  Narayanasamy said it is not only unfair to make such charges against the government, the CBI and  Yadav, but also an "insult" to the justice delivery system.