Follow us on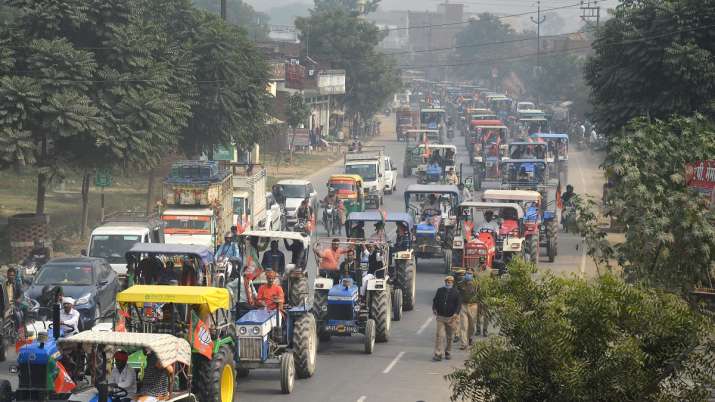 Highlights
SKM confirmed there was a telephone call from the government to a Punjab farmer union leader
Reports say Centre has also sought 5 names from farmer unions for panel on MSP, other issues
Farmers may take a big decision on the future course of their agitation on December 4
Coming as a major development in the ongoing farmers' protest, Samyukta Kisan Morcha (SKM) leader Satnam Singh on Tuesday said that the government has accepted their demands.
SKM leader Satnam Singh said that the Centre has accepted all the demands put up by the farmers, therefore, it wouldn't be a point anymore to continue their protest.
Meanwhile, the Centre has also sought 5 names from farmer unions for the panel on Minimum Support Price (MSP) and other issues, for further discussions on the pending demands by farmers after the government repealed all three farm laws on the first day of the winter session which commenced on November 29.
Reports further said that the SKM will decide names in its upcoming meeting which will take place on December 4 to decide the fate of the protest, farmer leader Darshan Pal said.
SKM confirmed, "there was a telephone call from the Government of India to a Punjab farmer union leader, wherein the Government wanted 5 names to be suggested from SKM's side for a committee...however, we have received no written communication and no details are available so far about what this committee is about, its mandate, or terms of reference. In the absence of such details, it would be premature to comment on this issue," the farmer union added.
Till early Tuesday evening, the farmers' group seemed divided over the issue as sources from the Singhu border camp-site on Delhi outskirts - the headquarters of the SKM - sent out conflicting signals.
One of the SKM leaders, Darshan Pal had then confirmed that there was a communication that sought five names for SKM to be included in the committee for MSP. But a number of other farmers' leaders had said there was no official word from any government or political functionary.
Meanwhile, the Home Ministry has asked chief ministers of all the states to take back cases lodged against farmers.
The SKM has clarified that all its constituent organisations will take stock of the situation and take decisions about the next steps in the farmers' struggle on December 4, as announced earlier, therefore, it is being speculated that farmers can call off their protest on or after December 4, 2021.
(With inputs from IANS)
ALSO READ | Apologise to nation, action to maintain dignity of House: Piyush Goyal on suspension of 12 Opposition MPs
ALSO READ | Farm laws repealed: Opposition divided in cornering Govt as TMC, Congress hold separate protests