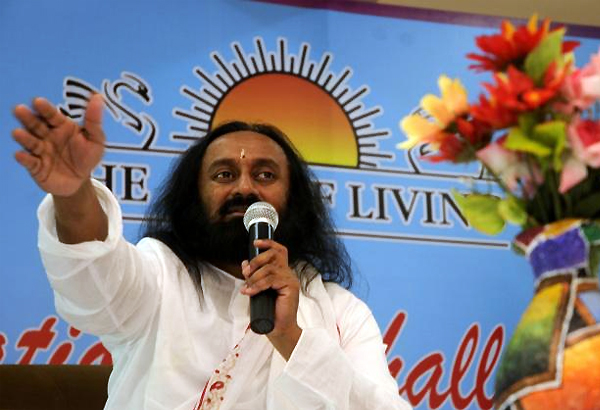 Jaipur, Mar 21:
Spiritual guru Shri Shri Ravi Shanker on Tuesday said that government schools are factory of Naxalism and hence they should be privatized.
"Quite often it is seen that students from government schools end up as Naxal. All the government run schools and colleges should be privatized and government should not be involved into this," said Art of Living founder Shri Shri Ravi Shanker at a gathering organised by local organizations in Jaipur.
He insisted that the students who are product of private educational institutions never opt for such extremism. They follow a principle in their life and teachers in such institutions are responsible for this.
Shri Shri Ravi Shanker's speech sparked off outrage among government school teachers in Jaipur who condemned his statements.
RP Agarwal, president of the All Rajasthan School Teachers Union (ARSTU), questioned Ravi Shankar's motives and mental health.
"There must be something wrong with him mentally to make such remarks. There are 17 lakh students sitting for exams this year in Rajasthan and if his statements are true, then Naxals would be present in each and every village in the state," Agarwal said.
Even as the ARSTU claimed that it would approach the President and the Governor of Rajasthan about the remarks, Agarwal said that it seemed Ravi Shankar wanted to deprive the poor of basic education.
"Most students who attend government schools cannot afford anything else and it seems Ravi Shankar wants to deprive millions of children education," Agarwal said.
Incidentally, while visiting Jharkhand in 2009, Ravi Shankar had said, "Maoists are good at heart. They are fighting against corruption and disparity. There is a need to bring them into the mainstream of society."
Though government schools are called factory of Naxalism but there is other side of coin also. Prime Minister Manmohan Singh including many of his cabinet ministers, Former President APJ Abdul Kalam, Former Prime Minister Atal Bihari Vajpayee and many others are among those who are product of government schools.
Educationists and ministers today condemned Ravishankar's  remarks as "unfortunate and illogical."
Human Resources Development Minister Kapil Sibal expressed surprise at the remarks and posed a question as to whether people in high positions in all walks of life who have studied in government schools are Naxals. 
Rajasthan Education Minister Brijkishore Sharma said Ravishankar's remarks were unfortunate and uncalled for. 
Around 50 people including students of government higher secondary school at Jhalana in Jaipur, their guardians and other locals burnt an effigy of Ravishankar in front of the school. They demanded an apology from the spiritual guru. 
People's Union for Civil Liberties(PUCL) while criticising Ravishankar demanded legal action against him. 
Asked by newsmen in Delhi for his response, Sibal said people who are in the highest positions in the government and outside government, members of the judiciary and former Presidents have studied in government schools.
"Can it ever be said that they are all naxalites," he asked. 
Sibal said he would give a "benefit of doubt" to Ravi Shankar "because I do not think even temporarily a person would be inclined to say such a thing because it would be such a sweeping statement that no individual having a sense of balance would make such a statement."
When contacted, Tripurari, a local spokesperson of Art of Living in Jaipur said Ravishankar's sense was that Indian cultured schools like Adarsh Vidhya Mandir produce well cultured students who lead life with an ideal and they never follow the path of violence.
"Guru Ji's point was simple that education should be privatised. He did not intend to link government schools and education system run by the government to naxalism or any such activity," he said.
Sharma said Government schools have been functioning for a long time and produced very talented youths and whatever Ravishankar has said is unfortunate and not acceptable. 
"As far as Rajasthan is concerned, we do not find any example as said by Ravishankar. The concept of private school is a new concept and earlier, students used to study in government schools only," he told PTI.
Narayan Singh, a representative of Rajasthan Elementary and Panchayti Raj Teachers Sangharsh Samiti, said Ravishankar should have spoken in a responsible manner because a large number of students study in government schools.
"The statement is biased and illogical. There are numerous example of students passed out from government schools are serving as IAS, IPS officers and holding other dignified and responsible positions in the country and why he did not mention this?" he said.
Prakash Panwar, a Youth Congress activist, demanded an apology from Ravishankar.
"People expect good words from a personality like Ravishankar but with his biased statement he has reflected his mentality which is simply unfortunate," he said.
On Twitter, Sri Sri Ravi Shankar clarified that he was not generalizing about all government schools being breeding grounds for Naxalism.
"I specifically referred to sick government schools in Naxal affected areas. Many who have turned to Naxalism have come from these schools.
"I did not say all government schools (where lakhs study) breed Naxalism. Great talents have emerged from these schools and I would never generalize."