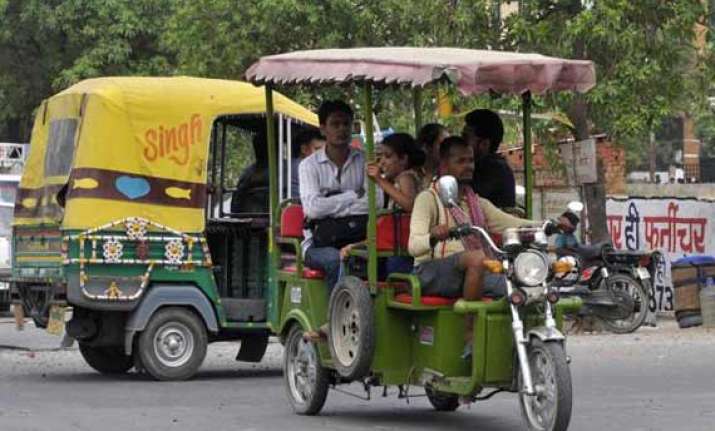 New Delhi: The Centre will amend the Motor Vehicles Act to exclude e-rickshaws from its purview and local bodies like Municipal Corporations will regulate them, Road Transport and Highways Ministry said today.
Earlier in the day, the Delhi High Court ordered stopping e-rickshaws from plying in the national capital "as of now" and observed that in the present situation "plying of e- rickshaws is illegal".
"We had prepared a draft Cabinet note and circulated it to different ministries 15 days back... Once we get their views, we will incorporate their views and take a decision and send it to the Cabinet Secretariat," a Road Transport and Highways Ministry official said.
Local bodies should frame rules to regulate e-rickshaws and an advisory is being sent to all states and Union territories regarding driving licenses, speed limit, design, colour and other specifications of e-rickshaws, he said.
"We took a decision that an advisory will be sent to state governments (that e-rickshaws should be regulated) under the local bodies Act, Municipal Corporation Act and the local police Act which provides for registration of non-motorised vehicles and also traffic regulations.
Decision should be left to local authorities," he said. The official said Road Transport and Highways Minister Nitin Gadkari after hearing the plight of e-rickshaw owners last month had instructed "us that e-rickshaws with a power of 650 Watts and below should be taken out of the ambit of Motor Vehicles Act and accordingly a Cabinet note was circulated a fortnight back".
He said the Ministry has informed the Solicitor General of India Ranjit Kumar regarding its views to be furnished with courts. As per the advisory being sent to states, "The definition of 'motor vehicle' ... in Motor Vehicles Act, 1988 has been amended inter alia to exempt three-wheeled electric motor propelled vehicles with engine capacity less than or equal to 650W from the purview of Central Motor Vehicle Act, 1988.
"As a consequence, three-wheeled electric motor propelled vehicles with engine capacity less than or equal to 650 W... are now covered under entry 8 of List II state list, on which state governments have powers to make law." The advisory asked the states to accordingly draw a policy for operation of such e-rickshaws and their drivers should be registered by a local body with an undertaking that he will comply traffic rules.
"Only the owners should be permitted to drive such vehicles...not more than four passengers and a maximum of 50 kg of passengers' luggage should be allowed in a vehicle," it said.
Besides it has prescribed a uniformcolour code - sky-blue, yellow or purple for such vehicles and directed that the name, address and phone number of the driver should be displayed prominently on the vehicle.