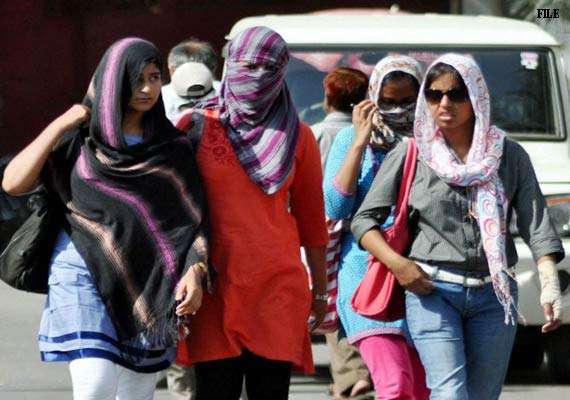 New Delhi: Moderate to heavy rains lashed several parts of north India with landslides blocking roads in Uttarakhand but the showers continued to evade Delhi.  Overcast conditions persisted in the national capital pushing the humidity levels, which oscillated between 90 and 61 per cent, making lives difficult for Delhiites.  
The maximum temperature here went up two notches above normal and settled at 35.5 degree C, while the minimum was recorded at 27.6 degree Celsius, one point above normal.  Landslides in Uttarkashi and Chamoli resulted in blocking of roads, however, no casualties were reported, officials at the State Emergency Operation Centre (SEOC) said.  
The Rishikesh-Gangotri and Rishikesh-Yamunotri route was blocked and the border road organisations were in process of clearing them. However, the Rishikesh-Kedarnath route remained open, they said.
Light to moderate rains lashed several places in Uttarakhand but the rivers continued to flow below the danger mark, unlike yesterday when the water in the river Ganga had reached the warning level.
MeT office in Lucknow said several places in the eastern and western part of Uttar Pradesh received moderate to heavy rainfall.
The chief amount of rainfall recorded in cms was Mahroni 13, Garotha 8, Lalitpur 7, Jhansi and Agra 5 each.  In Rajasthan, isolated places in Kota and Jaipur witnessed heavy downpour. Several other places in the state including Dabok, Ajmer, Jodhpur, Udaipur and Barmer received light to heavy rainfall.
Kota recorded maximum 53.2 mm rainfall, followed by Chhitorgarh which received 17 mm rainfall, the MeT department in Jaipur said.
Meanwhile, rains at several places did not provide relief to residents of Punjab and Haryana where hot weather conditions prevailed throughout the day.  In Punjab, Ludhiana and Patiala received 7.8 mm and 9 mm of rainfall respectively in the past 24 hours and their maximum went up three notches above, settling at 35.5 deg C and 35.6 deg, Met department report said.  While Amritsar in Punjab recorded the highest temperature of 36.1 degree, Hisar in Haryana was the hottest place with a high of 36.2 degree Celsius.
The common capital Chandigarh recorded the maximum temperature of 35.9 deg C, four notches above normal and the city received 0.8 mm rainfall.