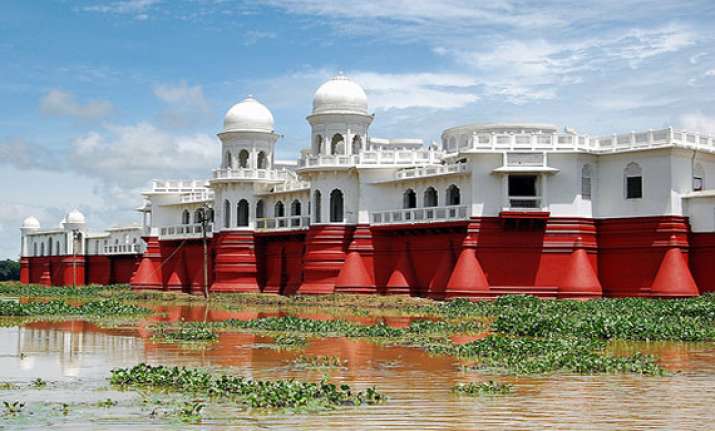 Agartala:  Neermahal, the grand palace located in the vast Rudrasagar Lake in Tripura which is in near-ruins due to neglect and ravages of time, is set for restoration as a major tourist attraction.
The only palace of its kind in the whole eastern region, Neermahal was built by the Martin and Burn Company way back in 1930 in the centre of the 5.3 sq km Rudrasagar Lake.
It served as the summer resort of the erstwhile King Bir Bikram Kishore Manikya Bahadur and still draws thousands of visitors every year despite the poor condition of the lake which has become shallow because of heavy deposit of silt.
The 24-room palace is surrounded by weeds on all sides and the boats that ferry visitors to the palace are rickety, demonstrating all-round neglect.
It presents a sad contrast to the Lake Palace on Pichola lake in Udaipur in Rajasthan, which doubles up as a luxury hotel.
A light and sound show was installed in the palace in 2003 by a Finnish company at a cost of Rs 1.20 crore, but for the last nine months, it has been  defunct.
"The system developed some fault and there was no one to repair it," an official of the state's tourism department said.
He said Neermahal had three generators in the 30s as the King wanted his summer palace to be well lit. Now, only the platforms on which the generators stood remain.  
In the past five decades, the administration's compulsion to keep the local farming community happy has also led to a degradation of the lake with water being pumped off to assist paddy cultivation after every rainy season.
The secretary of the Rudrasagar Udbastu Fishermen Samabay Samity, Satyaban Das, said, "It was in 1960 that a decision was taken to have agriculture around the lake along with fishing.
The agricultural land was distributed among 600 families but it was not a permanent decision and now we believe it was not right."
The earning from tourism (primarily from boat rides) during 2011-12 was Rs 24 lakh, while only about Rs 18 lakh was earned through fishing, Das said.