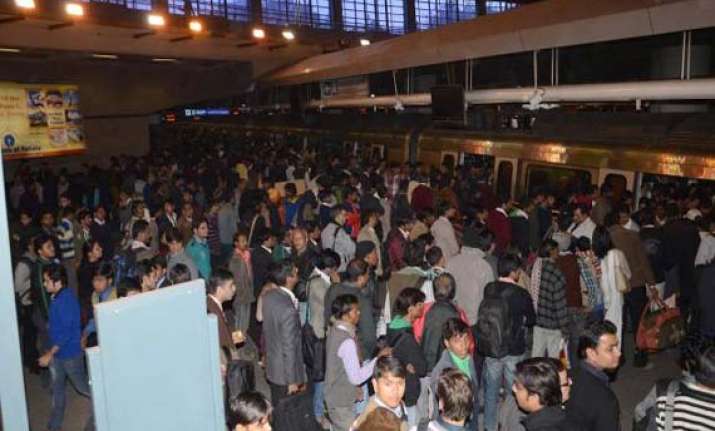 New Delhi, Feb 21: The Delhi Metro saw a huge rush of commuters during office hours both on Wednesday and Thursday due to the nationwide strike, leading to delays and chaos.
With auto-rickshaws and taxis off the roads, it fell on the metro and Delhi Transport Corporation buses to ferry commuters.
The metro ridership at 8 p.m. on Wednesday was 16.29 lakh while Tuesday it was 15.83 lakh, a Delhi Metro official told IANS.
"There was a massive rush at Rajiv Chowk station. Everyone was jostling for space," said Mohammed Imran, who was going to his office in Connaught Place.
Central Secretariat station too saw crushing crowds since morning. Snags and delays were also reported as trains overflowed with commuters.
"Managing the crowd was very difficult. Some trains had to be halted for some extra minutes because commuters tried to force themselves into packed coaches," said Sushil Gupta, a guard at Rajiv Chowk station.
Metro officials deployed additional staff at stations to manage the surging crowds besides putting on standby some extra trains on each line.
"This morning we made two extra trips on Line 2 (Huda City Centre to Jahangirpuri)," the metro official said.