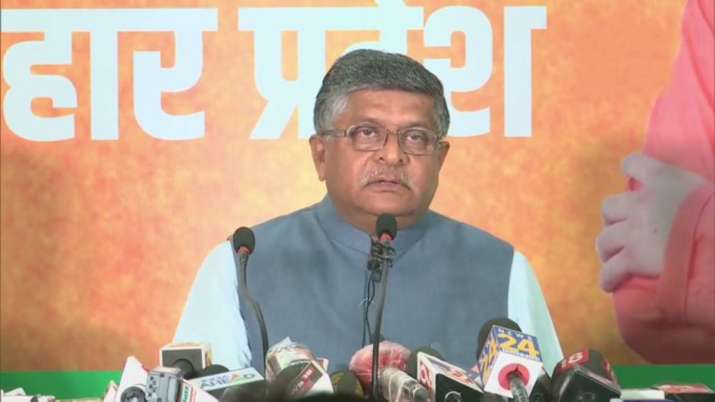 Amid opposition's protest over Hathras gangrape case, Union Minister Ravi Shankar Prasad on Friday attacked Congress for being quite on a similar incident that happened in Rajasthan, while showing outrage for crime in Uttar Pradesh. 
The union minister said, "What is this policy of Congress to keep quiet on Rajasthan, where a similar incident has happened? Rahul and Priyanka Gandhi are not speaking anything on that, but are doing drama in Hathras. How will this work?"
As per the India Today report, two minors were allegedly abducted from Baran in Rajasthan and taken to Jaipur and Kota where they were gang-raped for three days. However, police have claimed that the two minor girls denied the rape allegations in their statement. Meanwhile, Rajasthan Chief Minister Ashok Gehlot lashed out for "misleading" the public by comparing the Baran incident with Hathras gangrape. 
The BJP MP also assured that the state government is taking the adequate step to handle the case and the accused will be given harshest punishment. Prasad said, "It is an unfortunate incident. Uttar Pradesh CM Yogi Adityanath ordered a Special Investigation Team (SIT) inquiry into the case. Accused have been arrested. If it's a rape case or not, that has also been told by UP Police."
Congress leader Priyanka Gandhi Vadra along with Rahul Gandhi attended a prayer meet at the Maharishi Valmiki temple in Delhi organised amid nationwide outrage over the alleged rape and murder of a Dalit woman in Uttar Pradesh's Hathras.
The Yogi Adityanath government and the UP Police are under attack over the alleged gang-rape of a Dalit girl and the manner in which her cremation was done by the Hathras administration in the dead of night. While the Opposition is demanding the resignation of UP Chief Minister Yogi Adityanath citing the mishandling the 19-year-old's rape and murder case. 
In the victim's village, media and political leaders are not being allowed and the police have sealed the village. Additional SP, Hathras said that the village will remain sealed till the three-member Special Investigation Team (SIT) finishes its probe.  
Meanwhile, the Lucknow bench of the Allahabad High Court on Thursday took suo motu cognisance of the Hathras incident and issued notice to the Uttar Pradesh government.
On Thursday, the state government said that the forensic report revealed that the 19-year-old girl who succumbed to her injuries at a Delhi hospital was not raped.
ADG, Law and Order, Prashant Kumar claimed the cause of her death was an injury on the neck and trauma resulting due to it, as per the forensic science laboratory report.