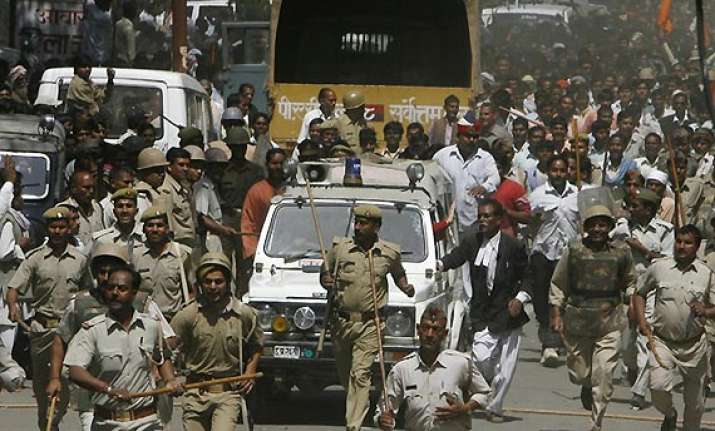 Lucknow, Mar 20: Fourteen IAS officers were transferred by the new SP government this evening.  Six of them have been appointed district collectors.
Following are the names of new district collectors:  Prabhu Narayan Singh (Ramabai Nagar), Anil Kumar-III (Allahabad), Alok Kumar-III (Sitapur), Mayur Maheshwari (Badayun), Ms Ritu Maheshwari (Pilibhit)  and A. V. Rajamouli (Pratapgarh).  
Ms Kamini Chauhan Ratan, who had been shifted from Bulandshahar to Pratapgarh has her posting cancelled and kept on waiting.  
Shambhu Nath Shukla, Divisional Commissioner Kanpur, has been appointed Principal Secretary, Housing and Urban Planning.  
B S Bhullar has been appointed Principal Secretary, Transport, while Balvinder Kumar has been posted as Principal Secretary, Food and Civil Supplies. 
Ashish Kumar Goyal, MD, UPSRTC has been kept on waiting. In his place Alok Kumar-I has been appointed MD, UPSRTC with additional charge of Commissioner Transport, Lucknow.  
Majid Ali has been appointed Principal Secretary, Power.  
Kaushal raj Sharma, who was Collector, Pilibhit has been appointed Additional Land System Commissioner in Revenue Board. 
Four PCS officers have been shifted. Subhash chandra Uttam has been appointed secretary, Ghaziabad Development Authority. He replaces Narendra Kumar-III, who has been shunted as Special Secy, National Integration Department. 
Manoj Kumar Roy has been appointed Officer on Special Duty, Noida.  
Chandra Kant, chief development officer, Badayun, has been shunted out as  Addl Land System Commissioner, Revenue Board.