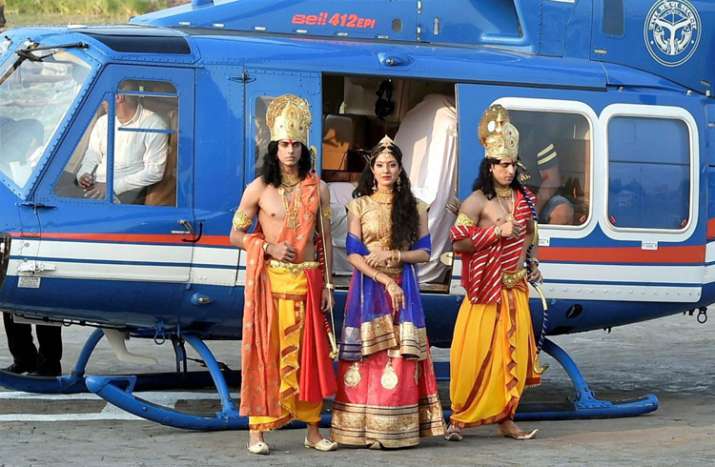 A blue helicopter decorated as the mythological 'Pushpak Viman' descended on the Ram Katha Park on the glittering Sarayu river banks, lit up by 1.71 lakh earthen lamps, as another copter showered flowers from the sky. 
Artistes decked up to resemble Lord Ram, Sita and Laxman alighted from the 'Viman' depicting their homecoming from fourteen years in exile. 
The burst of colours and the scene awed the attendees of the Uttar Pradesh government's mega 'Deepotsav' event at the open-air auditorium on the banks of the Saryu river as they chanted "Jai Shri Ram". 
Governor Ram Naik, Chief Minister Yogi Adityanath and members of state cabinet received the trio with garlands. Addressing the occasion, Adityanath said, "Ayodhya gave the concept of Ram Rajya - where there is no poverty, pain, grief or discrimination." 
He said the efforts by his government to "recreate the Treta Yug" was aimed at promoting Ayodhya as a tourist destination.