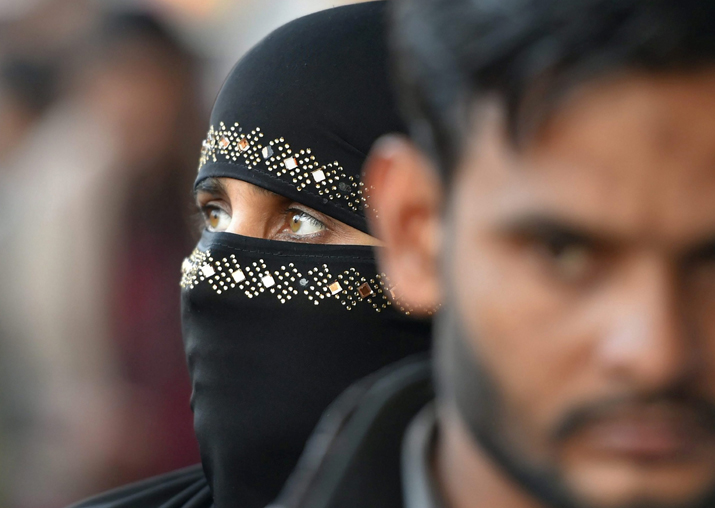 The All India Muslim Personal Law Board (AIMPLB) on Thursday expressed serious reservations over the Muslim Women (Protection of Rights on Marriage) Bill which was passed by the Lok Sabha and said it will take steps through democratic means to "amend, improve or scrap" it.
The Shia Waqf Board, meanwhile, called for making the punishment to those indulging in 'triple talaq' more stringent.
"We will take whatever steps required through democratic means to amend, improve or scrap it. There is no move to go to court as of now ... The bill was brought in a haste," AIMPLB spokesperson Maulana Khalil-ur-Rehman Sajjad Nomani said.
He said the board should have been taken into confidence on the issue.
"Law minister Ravi Shankar Prasad while tabling the bill also quoted the board and a lady MP of the ruling party tried to answer the queries raised by the Board in a letter to the prime minister proving that the government recognises the board. So the board should have been taken into confidence," Nomani said.
However, AIMPLB member Zafaryab Jilani hinted that the board may approach the Supreme Court against the triple talaq bill once it is passed by Parliament.
"An option is always open to challenge the law passed (by the Parliament), which is against the Supreme Court's judgement and the Indian Constitution, in the Supreme Court."
"Convenor of our legal committee has also suggested that it can be challenged in the court. However, we will decide our future course of action once the Bill is passed and law is enacted," Jilani said.
AIMPLB wanted that the triple talaq bill should not be in conflict with either the Constitution, Supreme Court order or Muslim personal law board, he said.
"We had demanded that bill should have been prepared only after consultation of representatives of Muslim women organisations, All India Muslim Personal Board, but it doesn't mean that we were against the bill."
The president of the All India Muslim Women Personal Law Board (AIMWPLB), Shaista Amber welcomed the tabling of the bill but insisted that it should be in the light of Quran.
"We welcome the tabling of the bill and this has given lots of hope to the women as triple talaq is an evil which has been haunting them," she said.
Amber, however, added that any law enacted in this regard should be in the light of the Quran and Constitution to make it acceptable to the community.
President of the Shia Waqf Board, Wasim Rizvi however said that he had sent a letter to the Prime Minister Narendra Modi for making the punishment to those indulging in the practice more stringent.
"I have urged the Prime Minister through a letter that a jail term of 10 years to those indulging in triple talaq and lodging a criminal case against them," Rizvi said.