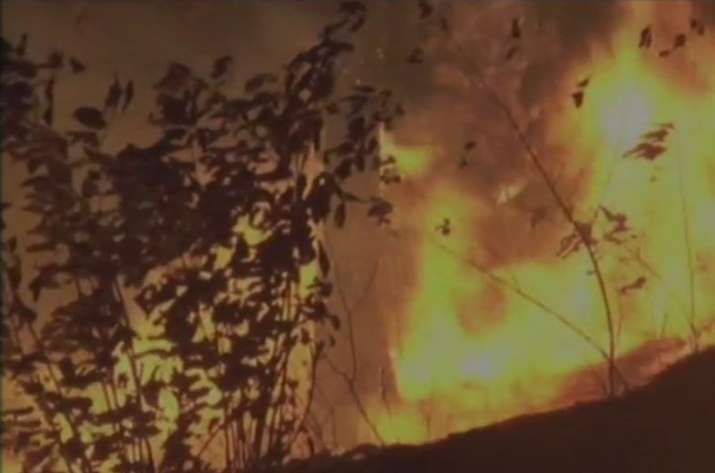 The forest fire in Uttrakhand, raging on for past five days, has destroyed a vast area of natural vegetation in the state while killing several animals. The fire has now reached Rishikesh-Badrinath Highway 58, creating trouble for the commuters. On Monday, the forest fire reached residential colonies in Srinagar area of the state. 
Locals say the fire has been raging in the different parts of the forest area in Uttarakhand's Srinagar for the past five days, no action has been taken by the administration, there is difficulty in breathing due to the smoke. While the forest department has admitted that their efforts are being hindered by insufficient resources and manpower. The department officials told India TV that they limited vehicles and equipment necessary to tackle forest fires.
"Over 75 hectares of the jungle has been burned down, but we do not have enough equipment to deal with the fire. With only a team of nine, we are grossly understaffed to handle the situation," Srinagar Forest Ranger Narendra Singh said. 
Fire in a jungle #Uttarakhand's Srinagar has not been doused for 5 days. Many animals have lost lives in the fire. The fire has spread till Rishikesh-Badrinath Highway 58 pic.twitter.com/mcxt0BFAQ1

— ANI (@ANI) May 21, 2018
Forest fires are a common occurrence in the region during the summer season. Every year the state has to handle the loss of natural vegetation and animals due to the fires caused by heat. Despite the frequent reoccurrence, the forest department remains unprepared to handle the situation. 
Watch video: