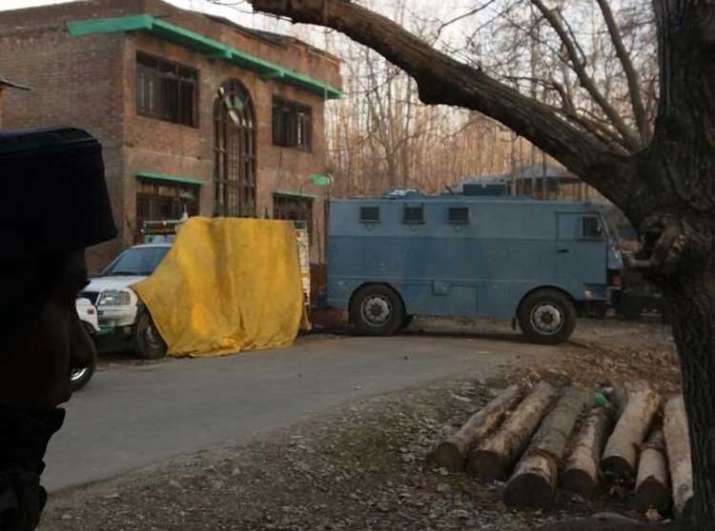 Two security forces personnel lost their lives while four Hizbul Mujahideen militants were killed in an encounter early this morning in Frisal area of south Kashmir's Kulgam district. 
Two other jawans were injured in the heavy gunfight while one civilian was also killed in the crossfire. 
Acting on a tip-off of Jammu and Kashmir Police, a cordon was thrown around Nagabal Village in Frisal, about 70 kms south of Srinagar by the army, police and para-military forces at around 4.30 AM, official sources said. 
They said the intelligence input was clear that militants were hiding in a house in the village following which a cordon was thrown around the locality so that no militant escaped. 
A repeated check on all the houses yielded no success but the police personnel accompanying the raiding party insisted on a rechecking a house where the intelligence input had suggested about the presence of the militants. 
The personnel from One Rashtriya Rifles, which forms part of the Victor Force counter-insurgency grid of army in South Kashmir, and Special Operation Group of State police again carried out a search inside the house and located a false ceiling where the militants were hiding. 
On being spotted, the troops, who were accompanied by the house owners, came under heavy fire in which two jawans identified as Lance Naik Raghuvir Sigh and Lance Naik Gopal Singh Badoria got killed. 
In the gun battle thereafter, three militants managed to escape in the nearby jungles while four other militants belonging to banned Hizbul Mujahideen outfit were killed. The search operations was still in progress for escaped militants. 
Director General of Police S P Vaid told PTI that security forces had achieved a major success by gunning down four militants. 
"However, it's unfortunate that two soldiers were martyred and son of the house owner got caught in the cross-fire and succumbed to his injuries," he said. 
Out of the four militants, three have been identified as Mudasir Ahmed Tantray, Farooq Ahmed Dar and Azhar Ahmed. 
Effort was on to identify the fourth one.
Four weapons have been recovered from the scene of the gunbattle.
(With PTI inputs)