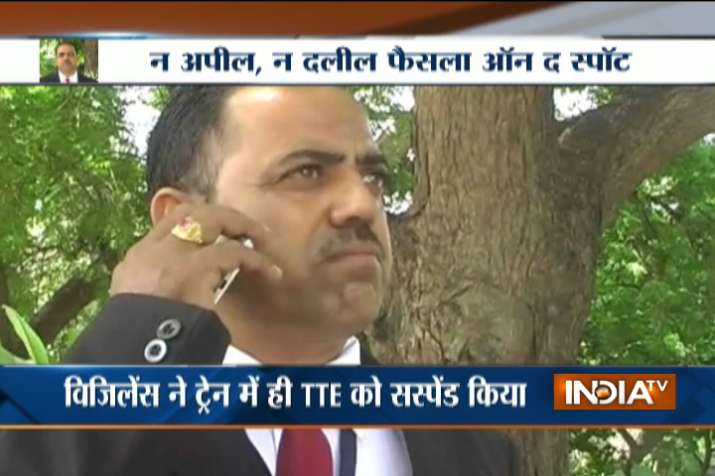 Come to be known for its quick actions based on Twitter complaints, the Suresh Prabhu-led Railway Ministry today gave another instance of its modern ways of handling customer grievances.
Minutes after it received a complaint on Twitter regarding a TTE accepting bribe from passengers in exchange for seats, the ministry conducted an inquiry, submitted its report and even suspended him even before the journey was complete.
A passenger named Govind Narayan travelling on board the Barmer Kalka Express on Saturday noticed that a TTE, Shyampal, was collecting extra Rs 15 from the passengers for allotting them seats.
Aware of the Railway Ministry's proficiency on social media, he immediately marked a tweet to Ministry of Railways, Railway Minister Suresh Prabhu, Prime Minister Narendra Modi, and India TV, informing about the TTE's corrupt acts.
General Manager@GMNWRailway i m in train14888 in S-6 m going BMR to BKN(Raj) TTE is takng extra chrg fr seat bt nt givng receipt #corruption

— govind narayan (@gnkiradoo) September 10, 2016
I can tell u in detail abt this corruption @7733010994@RailMinIndia @sureshpprabhu @narendramodi @indiatvnews @aajtak @abpnewstv

— govind narayan (@gnkiradoo) September 10, 2016
It then took Railway Ministry just minutes to take care of the matter.
The ministry forwarded Govind's Tweet to DRM who then spoke to him and coordinated the exact location of the train. On the next stop Jodhpur, Vigilance Officer Mukesh Gehlot was waiting to get on board to take suitable action against the TTE.
After checking Shyampal's record books, Mukesh forwarded a report to DRM who then ordered his suspension through Twitter.
Shyampal was asked to de-board the train at Merta station.
Govind was informed about the development on the micro-blogging website.
@RailMinIndia @sureshpprabhu @narendramodi action has been taken against the duty staff.

— GM NWRailway (@GMNWRailway) September 10, 2016
The incident is the latest in a series of incidents where the Railways have put their best foot forward when it comes to dealing with passenger grievances. Past incidents have seen the Railways spring into action on tweets complaining of lack of facilities, health issues and even in case of milk required for infants.