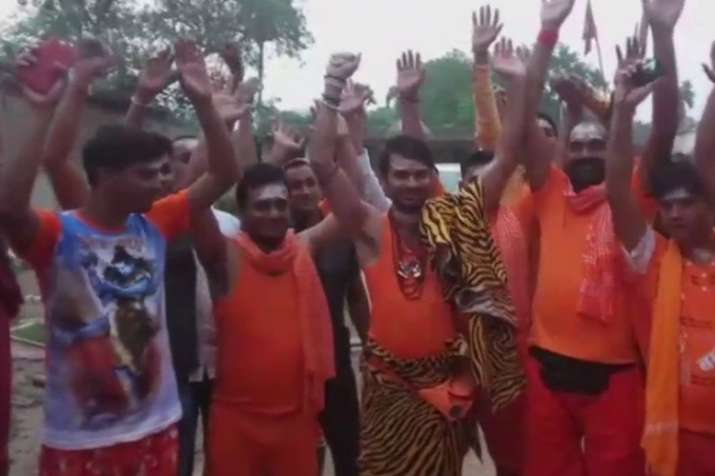 Much like his father Rashtriya Janata Dal (RJD) chief Lalu Prasad, Tej Pratap too knows how to be in news. After dressing up as Hindu deity Lord Krishna last year, Tej Pratap was seen donning a dress similar to Lord Shiva on Tuesday. 
Tej Pratap, who was clad in a tiger-print lower, orange vest and rudraksha mala, performed puja along with other priests and even blowed a conch shell (shankh) and played damru in a temple in Patna before leaving for Deoghar in Jharkhand for kanwar yatra. Every year, during the month of shraavana or saawan, lakhs of devotees visit the Baba Baidnath temple in Deoghar to offer Ganga jal they take from Sultanganj near Bhagalpur in Bihar. The devotees cover the 104 km distance from Sultanganj to Deoghar on foot.
Tej Pratap, who served as state health minister in the Mahagathbandhan government, is also set to make his Bollywood debut soon. Tej Pratap had recently tweeted the poster of his upcoming Hindi movie 'Rudra - The Avatar'.  
This would be the first time Tej Pratap, 29, will be seen  in a Hindi film as its main lead. He had done a role of  chief minister in a Bhojpuri film in 2016 when he was still a cabinet minister.
Interestingly, Lalu Prasad had also done a cameo in 2005  Hindi movie Padamshree Lalu Prasad Yadav. The film directed by Mahesh Manjrekar had Suniel Shetty and Johnny Lever in lead roles.
WATCH: Tej Pratap in 'Shiva' avatar