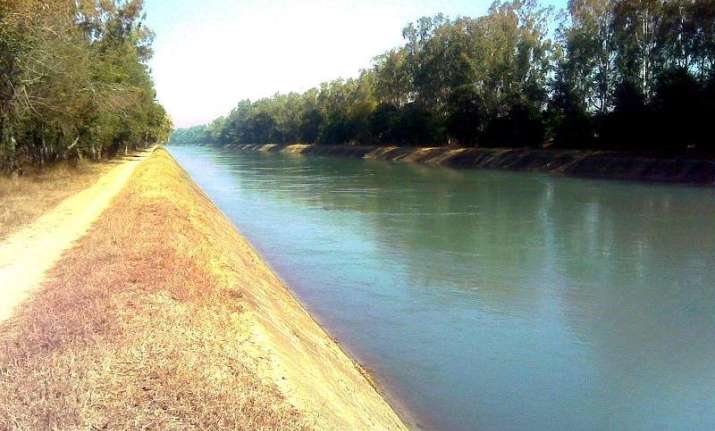 New Delhi: The Supreme Court today ordered a status quo on the Satluj Yamuna Link (SYL) Canal after the Haryana government moved an application seeking a stay on Punjab government's recent move on the canal issue.
The court order would affect the transfer of 3,928 acres of land along 122 km stretch of SYL Canal in Punjab to the farmers from whom it was acquired for the construction of the canal for transporting 3.5 MAF of water to Haryana.
The constitution bench of the apex court is hearing on the presidential reference seeking apex court's advisory opinion on the 2004 Punjab law that was passed during the tenure of then chief minister, Capt. Amarinder Singh, terminating all water sharing agreement with the neighbouring Haryana and other states.
 
The apex court also appointed the Union Home Secretary as well as the Punjab Chief Secretary and DGP as receivers of the canal.
The constitution bench headed by Justice Anil R. Dave said, "Prima facie it appears that an effort is being made to make the decree confirmed by this court inexecutable. Supreme Court can't be a silent spectator in this situation."
Appointing the joint receivers, as prayed for by Haryana, it said, "The status quo should be maintained with regards to lands (acquired for constructing SYL)."
 
Earlier in the day, Haryana Chief Minister Manohar Lal Khattar said that his government has returned the cheque for Rs 191.75 crore "in original" which Punjab had sent yesterday for SYL canal.
 
The Punjab Cabinet had on Tuesday decided to dispatch a cheque for Rs 191.75 crore back to Haryana which had sent it towards construction of the SYL canal.
Besides this, Haryana had sought to restrain Punjab from publishing the Punjab Sutlej-Yamuna Link Canal (Rehabilitation and Re-vesting of Proprietary Rights) Bill in the official gazette. The bill was passed on March 14.
Haryana said that Punjab Sutlej-Yamuna Link Canal (Rehabilitation and Re-vesting of Proprietary Rights) Bill was contrary to the constitutionalism, rule of law, Directive Principles of State Policy and federalism. 
Describing all the arguments advanced by Haryana as "rhetorical exuberance", senior counsel Rajeev Dhavan, appearing for Punjab, told the bench that every agreement was reviewable after the lapse of 25 years on the grounds of change in conditions.
The court directed the next hearing of the matter on March 30.
 
(With IANS inputs)