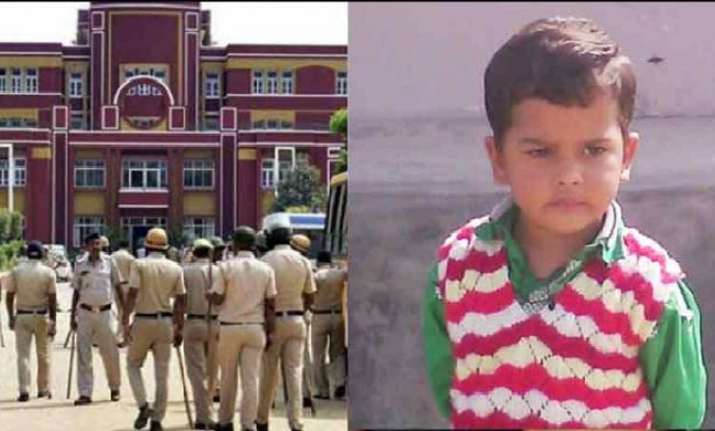 The Bombay High Court today rejected the pre-arrest bail pleas of three Ryan Group trustees. Pradyuman Thakur, a seven-year-old boy, was found with his throat slit in the toilet of the school on September 8.
The development comes a day after Pradyuman Thakur's father said that he will oppose the transit anticipatory bail being sought by the trustees of the school.
The high court has granted Pintos interim protection from arrest for filing appeal till September 15. They have also been asked to submit their passports in court by 9pm today.
Thakur, the father of the Class 2 student Pradyuman, had on Wednesday filed an intervening application opposing the anticipatory bail pleas filed by the group's CEO, Ryan Pinto, and his parents - Augustine Pinto, the founding chairman of the group, and Grace, its managing director.
Thakur alleged in his application that the school's trustees were "vicariously responsible, liable, accountable, answerable for the culpability and guilt for which the bailapplication should be dismissed in limine  (at the threshold)."
"The remorseless, spineless and senseless approach and attitude of the school management, its directors/CEO and other top notch executives in this rarest case is absolutely inexcusable and hence, the present bail application deserves to be dismissed in toto," said the application.
Thakur said he was shocked by the trustees' statement that they are not part of the crime as they do not look after the day-to-day working of each school.
If the top management of the school can share in the "plunder and prosperity", why should it not face the rule of law because of vicarious liability, the petition said.
He alleged in his petition that it appeared "Pradyuman was meticulously murdered with foolproof planning and conspiracy, otherwise how a conductor sneaked inside with a brand new knife, slitting the throat in a surgically expert manner".
WHY WAS PRADYUMAN KILLED?
Police allege that 42-year-old bus conductor Ashok Kumar killed him with a knife after the boy resisted an attempt to sodomise him. Kumar has been arrested.
Pradyuman Thakur's father said the way the conductor took the child to the hospital and confessed to killing him "immediately" raised doubt which can be cleared during the custodial interrogation of people in the school management. Thakur also said evidence like blood stains on the floor and clothes were wiped out.