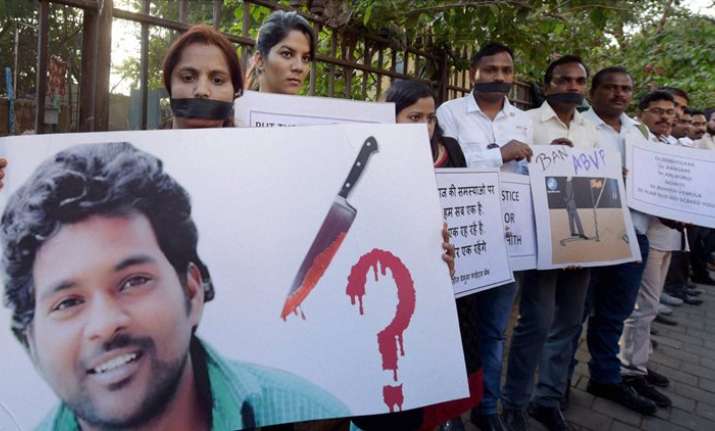 New Delhi: The slogans of azaadi again filled the air in Delhi as hundreds of students and teachers marched towards Rashtrapati Bhawan here today to request the President to take action against the Vice Chancellor of Hyderabad university. 
The protest march organised by Joint Action Committee (JAC) for Social Justice-Delhi Chapter, which began from Mandi House was halted by police near Jantar Mantar where the students held a meeting to express solidarity with the HCU students. 
Addressing the gathering, JNUSU President Kanhaiya Kumar, who is out on bail in a sedition case, appealed to students to continue their fight for "social justice". 
"The condition in HCU is worse that what we saw in JNU. I personally saw that. I therefore appeal you to continue your struggle and express solidarity with HCU students only then will we be able to achieve the social justice we are aiming for," said Kumar. 
The demonstrators appealed to President Pranab Mukherjee requesting him to take action against police clampdown in HCU. 
"The President is the visiting officer of the Central universities in India and so he should to take a stand in this case (HCU). He will have to answer if he is willing to take action against those responsible for what-all is happening there. He should answer if he is willing to stand for with Rohith's mother," said JNUSU's General Secretary Rama Naga. 
"Many efforts are being made to break our solidarity. Students are being deprived of basic amenities in HCU. You can cut off food supplies but you cannot cut off our solidarity," he added. 
A group of students, who were opposing Appa Rao Podile's return as the VC after a two-month leave following the row over Vemula's suicide, had allegedly vandalised the VC's official residence and pelted stones on police. 
Later, the police lathi charged them and arrested the 25 students, besides the two faculty members, who were later released on bail. 
Extending their support to the HCU students, the demonstrators in Delhi raised slogans for "azaadi" from "Brahmanwad, Manuwad and Sanghwad", and demanded that HCU's VC be removed from his post. 
JNU students have been agitating in the national capital in connection with the suicide of Dalit research scholar Rohith Vemula who was found hanging at the Hyderabad Central University's hostel room on January 17.