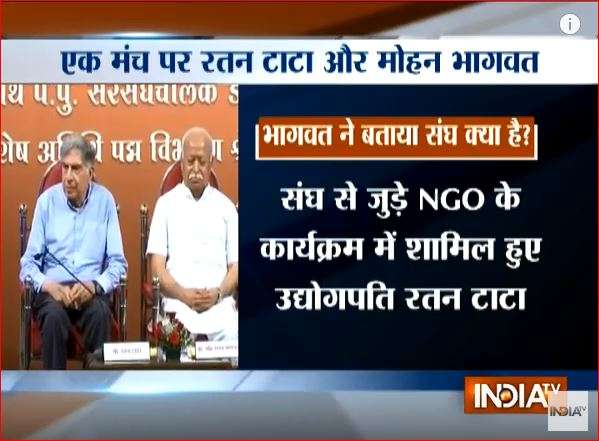 Renowned industrialist Ratan Tata on Friday attended an RSS even in Mumbai which was organised to mark the birth centenary of late RSS leader Nana Palkar. 
The RSS had invited Ratan Tata as the chief guest at the event.
While Rahul Gandhi has accused the RSS of dividing people, Mohan Bhagwat claimed that the Sangh is trying to unite people.
Speaking at the occasion, Mohan Bhagwat said that "Dharma" does not mean only religious rituals but also social duty, and the rulers speak of "Raj Dharma".
Expounding on the concept of 'Dharma', Bhagwat said, "Dharma does not mean only rituals. It also means working for uniting and uplifting society. It is a duty towards society.  
"Dharma is also the duty of son towards father, father's duty towards son, and those who are elected to power, speak of 'Raj Dharma' (ruler's duty). We have to perform the duty without seeking anything in return," the RSS chief said. 
 
The Sangh believes in "inclusive development" and nation-building through collective effort, he said, adding that Palkar served the society with "genuine willpower" and the urge to do good.
Referring to Tata, the RSS chief said, "We were all eager to hear the chief guest, but when I asked him he said he feels shy of speaking. Those who do work, they feel shy of speaking.
"The organisations which do work, give the job of speaking to some people. Today that job has been assigned to me," he said, adding that "the work always speaks for itself".  
Bhagwat also lauded the Tata Group, saying its focus has always been on the use of wealth for betterment of society and not on creation of personal wealth.
Watch: Ratan Tata attends RSS event in Mumbai