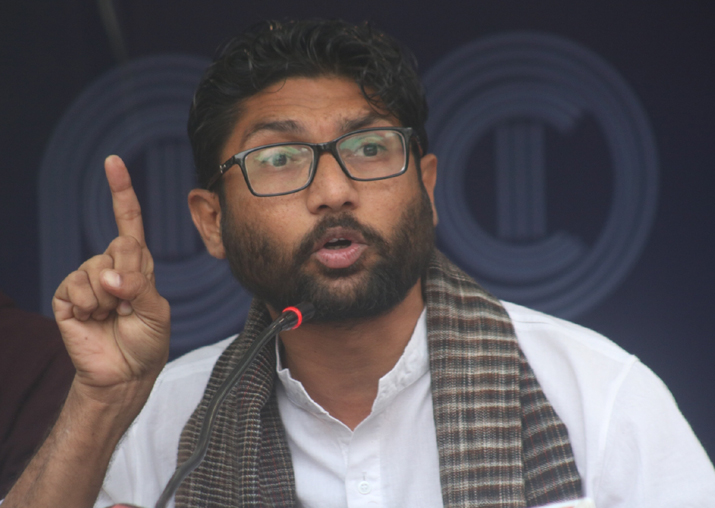 Independent MLA from Gujarat Jignesh Mevani today denied making any inflammatory speech in Pune and accused the BJP and RSS of 'crushing' his voice.
Addressing the media in Delhi, Mevani said that the FIR was registered against him at the behest of BJP and RSS members and termed it a childish attempt to tarnish his image. 
"Members of Sangh Parivar and BJP made a childish attempt to tarnish my image and target me, it is an after effect of the Gujarat results. It is also because they have a sense of fear about 2019," he said.
An FIR was filed against Mevani and Jawaharlal Nehru University (JNU) student leader Umar Khalid yesterday for their alleged "provocative" speeches during an event in Pune on December 31.
Mevani further denied visiting Koregaon-Bhima event site near Pune and making any inflammatory speech.
"Neither did I make any inflammatory speech nor did I take part in the bandh in Maharashtra. I am being targeted by the BJP and Sangh," Mevani said.
Mevani announced that on January 9 he will march towards the Prime Minister's Office with a copy of Constitution of India in his one hand and a copy of Manusmriti in his another hand.
Not even a single word of my speech was inflammatory, I am just being targeted. No part of my speech was provocative or inflammatory: Jignesh Mewani, Gujarat MLA #BhimaKoregaonViolence pic.twitter.com/DyI6TKaqvS

— ANI (@ANI) January 5, 2018
He asked Prime Minister Narendra Modi to speak up on violence against Dalits. He said that he will be organising a 'Yuva Rally' on the same day to give a push to his campaign on social justice in the country.
"At the end of the rally, I will go to Prime Minister's Office with the Constitution of India in one hand and Manusmriti in another. I will ask the Prime Minister, what does he choose? The Constitution or the Manusmriti," he said.
Mevani, who claims himself to be the leader of Dalit community, said that by targeting an "established Dalit leader" the government has offended millions of Dalits of the country.
"If Dalits want to fight against exploitation, they will have to take to the streets. (But) how can the common man dare to speak up if an MLA from Dalit society is targeted? In cases of violence against Dalits, there has been no action. Modiji should clear his stand. Why is he maintaining silence?"