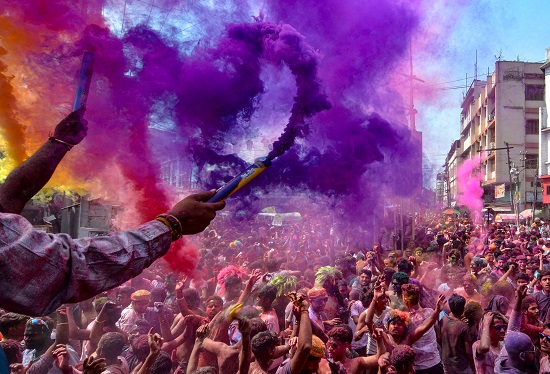 Holi marks the first day of the new year in the Hindu Calendar. Yesterday was the last full moon of the month (also called as phagun Purnima) and as per tradition, Holi is being celebrated a day after the Phagun Purnima. 
Holi is the festival of colours where people forget the past differences and come together for a new beginning. It is celebrated across India and Nepal. Indians across the globe also celebrate it. Mathura, the birth place of Lord Krishna, celebrates Holi in a unique way. Barsana's lathmar Holi attracts people from across the globe. 
We bring to you these lovely photos of Holi from across India and globe. Do take a look. You can also send in your photos of Holi celebrations to India TV. Use hashtag #HoliWithIndiaTV on Twitter and Facebook to send your photos.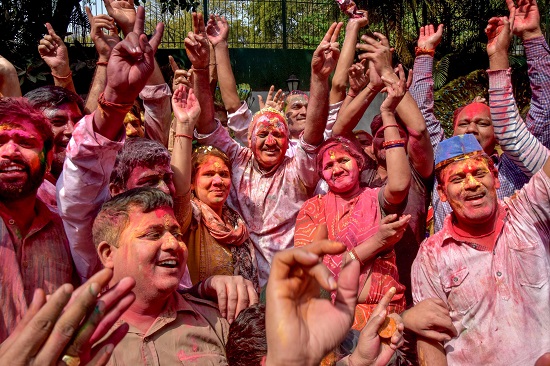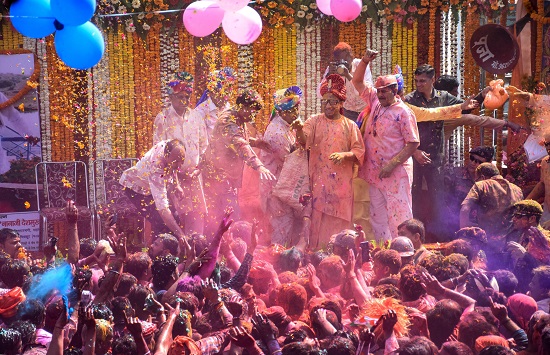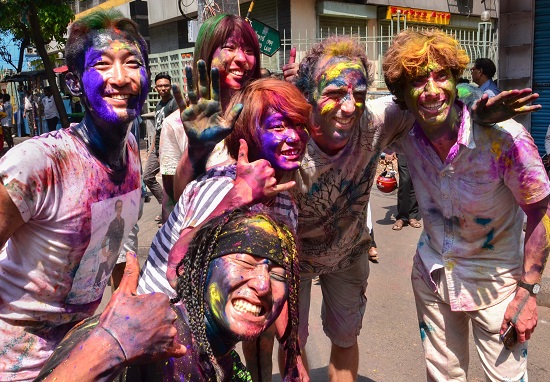 Take a glimpse of holi celebrations from Guwahati, Hyderabad and Bhopal.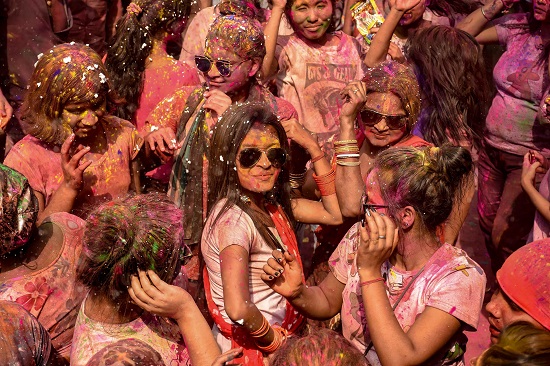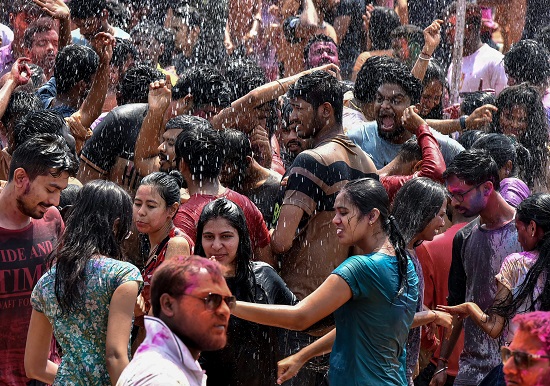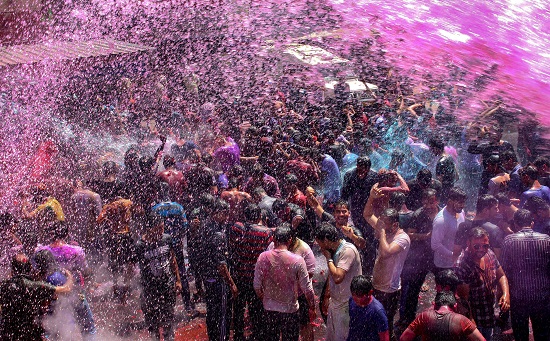 Holi celebrations reflect the truecolours of Indian Diversity.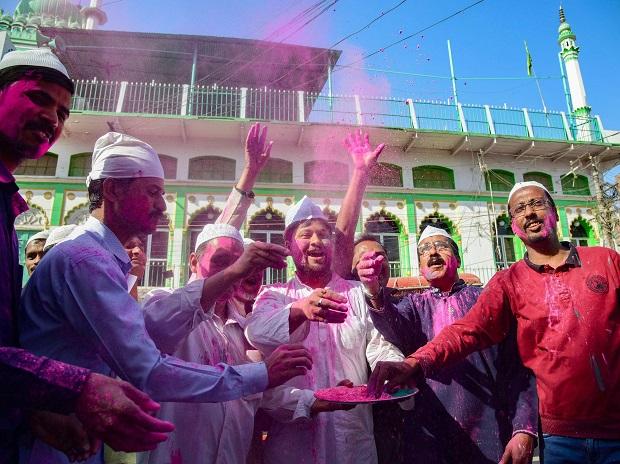 Sunny Leone celebrates holi with her husband and kids.
Happy Holi from the Weber's!! pic.twitter.com/4F211MvKXq

— Sunny Leone (@SunnyLeone) March 21, 2019
Virat Kohli tweeted,"Happy Holi to everyone! Let's celebrate the vibrant hues, the beautiful relationships and the joyous laughter."
Happy Holi to everyone! Let's celebrate the vibrant hues, the beautiful relationships and the joyous laughter. Here's a glimpse of my Holi with some of my friends at @MuveAcoustics 😊 #Holi2019 #MuveAcoustics #MajorFrenzyFeels
Check out the link below -https://t.co/TXov9mP6vi pic.twitter.com/N1XfnZ1y91

— Virat Kohli (@imVkohli) March 21, 2019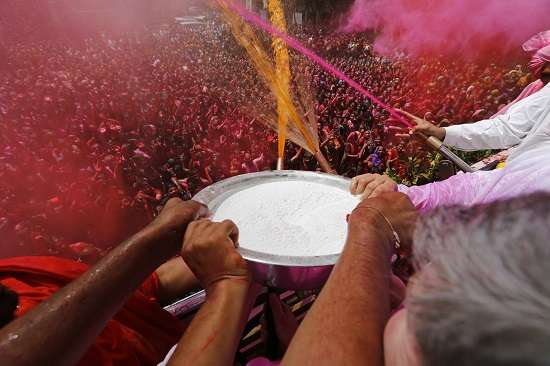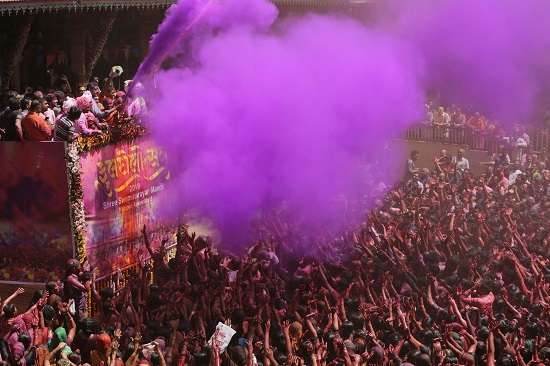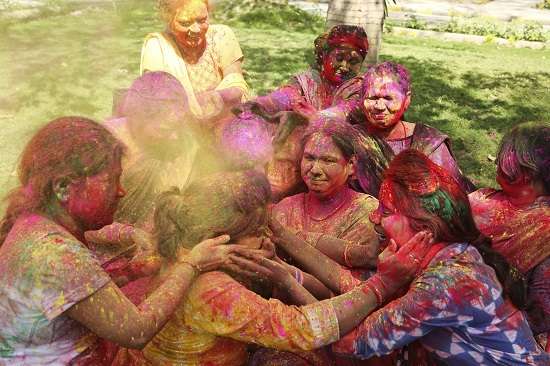 May this Holi be filled with moments and memories you cherish forever. Maamla Rangeen hai #HappyHoli pic.twitter.com/bTUU7Bwbb6

— Virender Sehwag (@virendersehwag) March 21, 2019
Happy Holi to all. Be safe, be happy....#HappyHoli2019 #Happy_Holi pic.twitter.com/6elhcaTJRp

— Gautam Gambhir (@GautamGambhir) March 21, 2019
With the spirit of togetherness, wishing you and your family a very happy and safe holi!!!
Cheers!! 🌈 #Holi2019 #HappyHoli pic.twitter.com/eQOWetzJbJ

— Ishant Sharma (@ImIshant) March 21, 2019
#HappyHoli from all of us at @USAndIndia!

Wishing you and your family a year of great happiness and joy from #USIndia. #Celebrations #Holi2019 pic.twitter.com/xuGgZtY4q5

— U.S. Embassy India (@USAndIndia) March 21, 2019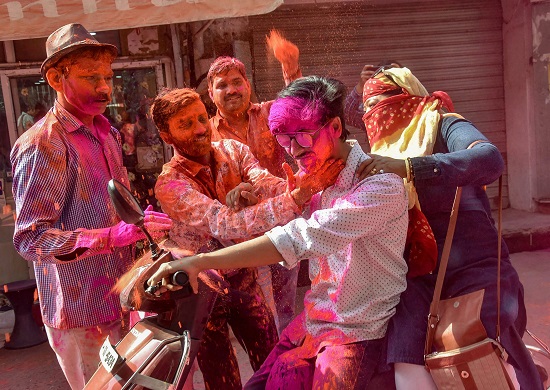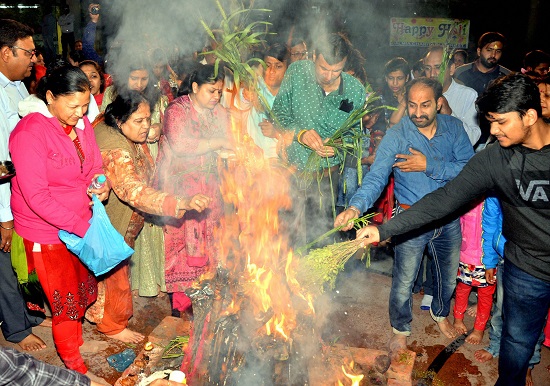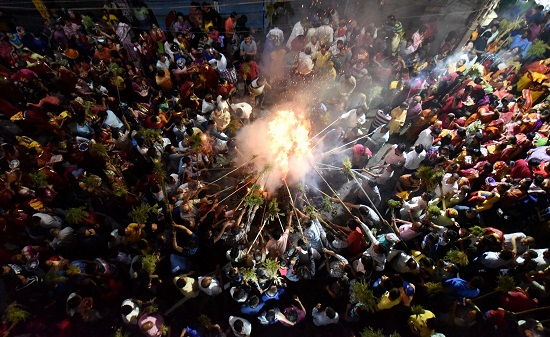 Happiness begins with people and family . #happyholi #love #peace #family #alwaysbettertogether pic.twitter.com/kI3t1tgHyZ

— Kajol (@KajolAtUN) March 21, 2019
Colours of Holi strengthen fabric of Inclusive Culture and Commitment of the society. #Holi2019 pic.twitter.com/VRYaAOoWED

— Mukhtar Abbas Naqvi (@naqvimukhtar) March 21, 2019
Hoping that colour fills all if our lives, not just today but always. Wishing everyone a #HappyHoli pic.twitter.com/4mUbP18A2l

— Sunil Chhetri (@chetrisunil11) March 21, 2019
#HappyHoli to everyone 🙏🏼 pic.twitter.com/egI6Ory1wz

— Anurag Thakur (@ianuragthakur) March 21, 2019
This day means honest smiles from the deepest parts of ones heart ❤️ #HappyHoli #SpreadLove pic.twitter.com/v2hE9QcTC7

— Harshvardhan Rane (@harsha_actor) March 21, 2019
Here's wishing everyone a Happy Holi! May you have a colourful year ahead!#HappyHoli pic.twitter.com/S3HLk5cf3u

— Mayank Agarwal (@mayankcricket) March 21, 2019
होली पर हम शुभ के मार्ग पर,धर्म-सत्य के मार्ग पर बढ़ें और देशभक्ति,प्रभुभक्ति,प्रेम,पुरुषार्थ के रंग में,योग,आयुर्वेद,स्वदेशी,वेदों,ऋषियों के ज्ञान और सब दिव्यताओं व पवित्रताओं के रंग में रंग जाएं, हमारा जीवन दिव्य रंगों से भर जाए और जीवन उत्सव बन जाये। #होली #HappyHoli2019 pic.twitter.com/cdZ0HSIK22

— Swami Ramdev (@yogrishiramdev) March 20, 2019