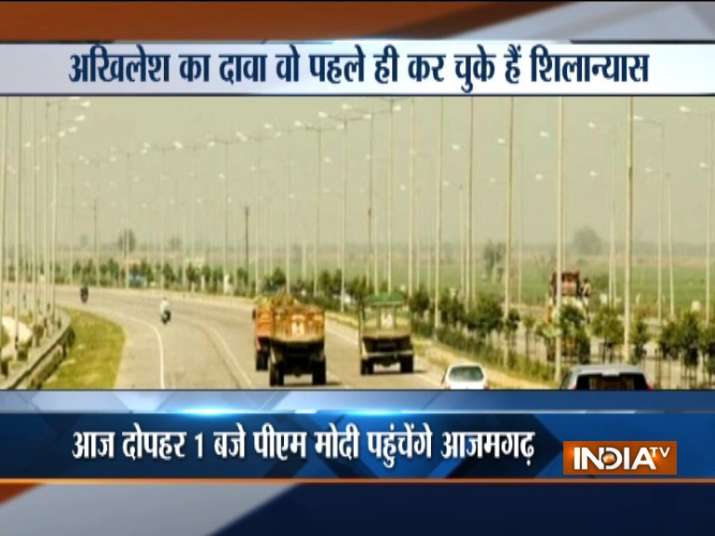 With an eye on the 2019 Lok Sabha elections, Prime Minister Narendra Modi will be beginning his two-day Uttar Pradesh tour on Saturday during which he will launch several projects worth crores. PM Modi will first visit Azamgarh to lay the foundation stone for the 340-km Purvanchal Expressway and then proceed to his Lok Sabha constituency Varanasi later in the evening. On Sunday (July 15), the prime minister will address a public gathering in Mirzapur. 
Meanwhile, a war of words has erupted between the Bharatiya Janata Party and Samajwadi Party over the Rs 23,000-crore Purvanchal Expressway project. The Opposition Samajwadi Party has claimed that the project is the brainchild of its leader and former chief minister Akhilesh Yadav, who laid a foundation stone for the same stretch in December 2016.
"With this expressway, the eastern districts of the state will get linked with New Delhi via Yamuna expressway and it will become the longest expressway in the country," Yadav was then quoted as saying.
Also Read: Yogi govt drops word 'Samajwadi' from Akhilesh's ambitious Purvanchal Expressway project
Both the BJP and the SP seemed to be trying to take credit for the project keeping the 2019 general elections in mind.
Taking a jibe at the BJP government, SP spokesperson Sunil Singh Sajan said, "The SP government had vision while this government is sans any vision. They only want to term the work done by the SP government as their own. They simply have nothing of their own to showcase to the people of the state."
22 दिसंबर, 2016 में शिलान्‍यास कैसे? जबकि दिसंबर 2016 तक 'पूर्वांचल एक्‍सप्रेस-वे' के नाम पर मात्र 20 प्रतिशत जमीन का ही अधिग्रहण किया गया था। #BaselessAkhilesh pic.twitter.com/5WLuJmNYts

— BJP Uttar Pradesh (@BJP4UP) July 12, 2018
About Purvanchal Expressway 
The six-lane expressway, which can be expanded to eight lanes, will provide a smooth ride between Lucknow and Ghazipur in eastern UP.
It will connect the state capital Lucknow with economically less developed districts like Azamgarh, Mau, Ghazipur, Faizabad, Sultanpur, Ambedkar Nagar and Amethi.
The eastern districts will be further connected to Agra and the national capital by the Lucknow-Agra Expressway and Yamuna Expressway.
The UP Cabinet had recently approved a proposal to seek bank loans of about Rs 12,000 crore for Purvanchal Expressway. The total cost of the project is over Rs 23,300 crore.
The project is likely to be completed in 36 months.
Watch: PM Modi to lay foundation of Rs 23,300 crore Purvanchal Express
(With inputs from PTI)