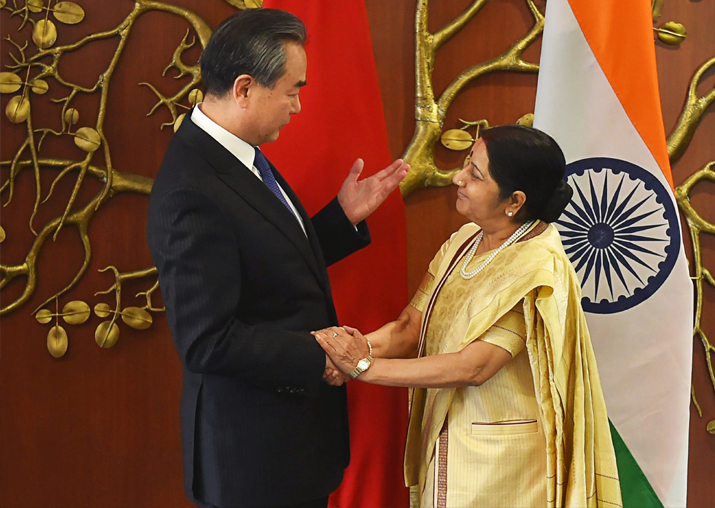 External Affairs Minister Sushma Swaraj told her Chinese counterpart Wang Yi that maintenance of peace in border areas is an essential pre-requisite for the smooth development of bilateral relations between the both sides.
According to a statement issued by the MEA, India and China have expressed satisfaction that Doklam standoff was resolved with the disengagement of troops at face-off site through concerted diplomatic communications.
"The Chinese Foreign Minister conveyed that the peaceful resolution of the Doklam issue reflects the political maturity on both sides. While agreeing with this, the External Affairs Minister reiterated that maintenance of peace in border areas is an essential prerequisite for the smooth development of bilateral relations," the statement said.
During her meeting with Yi, Swaraj also underlined the need for approaching "our difference with due consideration to each other's sensitivities and concerns".
Yi was India to attend the 15th RIC (Russia, India, China) foreign ministerial meeting. This was also his first visit to New Delhi since the Doklam crisis. 
Yesterday, Yi had said that the Dokalam standoff had put "severe pressure" on India-China ties though the issue was resolved through diplomatic means.
"The bilateral ties went through a serious test after Indian border troops illegally trespassed into the Chinese territory in June," Yi had told Swaraj.
The Minister had, however, noted that the Sino-Indian relations are at a crucial period and the most important thing between the two countries is to really cultivate mutual trust. 
Yi's visit to New Delhi was the first by a top Chinese official to India after the 73-day Dokalam standoff and after the commencement of the second five-year term of President Xi Jinping. The Dokalam standoff ended on August 28 after Chinese troops stopped building a key road close to India's Chicken Neck corridor.