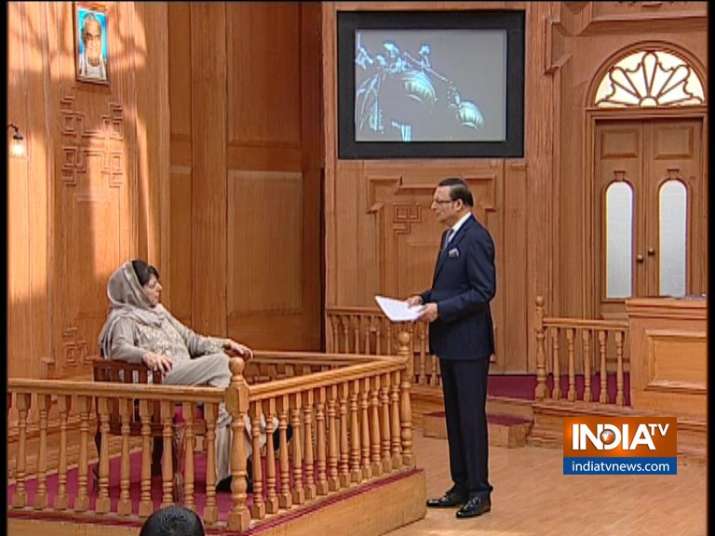 Former Jammu & Kashmir Chief Minister Mehbooba Mufti has ruled out any possibility of a war taking place between two nuclear powers India and Pakistan, saying that "in the event of a full scale war, India may have to lose more than Pakistan". 
 
Replying to questions from Rajat Sharma in 'Aap Ki Adalat' show telecast Saturday night on India TV, Mehbooba Mufti said, "There is not going to be a war between two nuclear powers. God forbid, if there is a nuclear conflagration, most of us will not survive. Even if there is a war, there will be losses on both sides, but our losses will be heavier, because we are a bigger country. We are a prosperous country and we have much to lose. Pakistan has nothing much to lose."
 
The former J&K chief minister believes that "instead of a war, some amount of "guttham-gutthi" (close fight) may take place on the border and it may be flashed in the evening on TV to show that we have won. There cannot be a war. Take this from me in writing."

 When Rajat Sharma said that it was up to the Generals to decide, and not her, how the action will take place, Mehbooba Mufti replied: "Yes, I will not decide, but the situation will decide. Let us see. Let me make it clear. I am not supporting Pakistan. I am only saying about the ground reality."
 
"It is easier to start a war, but it is very difficult to end a war. Take it from me in writing, whether it is today, or tomorrow, or after 10 or 20 years, the Kashmir issue has to be resolved through dialogue. Many former Indian generals have already said, that there cannot be a military solution. It is up to the political leadership to decide."
 
The J&K People's Democratic Party chief reacted sharply to comments on why she doesn't go to Pakistan. 
 
Mehbooba quipped back: "Why should I go (to Pakistan)? You want Kashmir without Kashmiris? That is why some people are asking Kashmiris to go to Pakistan? We have our land, our homes here. Why should we go? Let those who are fooling people in the name of war go to Pakistan."
 
The former chief minister said, "If we have to stop bloodshed in Kashmir, only dialogue can be a lasting solution, there is no other way out. War is not a solution. There have been wars in 1947, 1965, 1971 and 1999 but after every conflict, there was dialogue. Even after defeating Pakistan in wars, terrorism continued. Dialogue is the only way out."
 
Mehbooba Mufti criticized Pakistan Prime Minister Imran Khan for not condemning the Pulwama killings and for failing to express sympathy to the victims' families. "He has made a big mistake", she said. She appealed to the Pakistani PM to work with his army and stop giving support to terrorists and stop infiltration. 

"If we have to wage a war, we must wage a war of ideas in Kashmir. We should find out why we, as part of a big nation, failed to inculcate the right ideas in the minds of young Kashmiris, and why our neighbour manages to brainwash them with its own ideas sitting far away. Today there are the ideas of 'azadi', of Pakistan, in the minds of some young Kashmiris, but then we must find ways to throw out those ideas and give them better ideas. In order to do that, we must break away all fetters from Kashmir, and open up all roads.
 
"China is building the CPEC (China Pakistan Economic Corridor) in Pakistan. We in Kashmir are in a strategic position. Why can't we open Kargil-Skardu(POK) road?Why can't we have Srinagar-Xinjiang road? Why can't we make J&K part of the Central-South Asia corridor? Today we only have a single (Jawahar) tunnel linking Srinagar to Jammu. Before independence, J&K was the hub for trade in Central Asia."
 
Mehbooba Mufti said, "Imran Khan is an emancipated man who wants his country to prosper, but he should know that Pakistan can never prosper through enmity with India. "
 
When Rajat Sharma pointed out that former Pakistani President Asif Ali Zardari has described Imran Khan as a "puppet" of the army, She replied: "If that is so, it is better. It will put both their PM and Army on the same page, and it would be easier to deal with them. When Gen. Musharraf was in power, trade routes were opened between both sides of Kashmir. Today Imran Khan has the support of his army, the Kartarpur corridor was being opened up. We should appreciate this."
 
The former CM said that Pakistani PM Imran Khan should take action against Jaish-e-Mohammed, and India should give all evidences of Jaish involvement to Pakistan. "India should start dialogue with Pakistan so that such incidents do not happen in future."
WATCH FULL EPISODE: