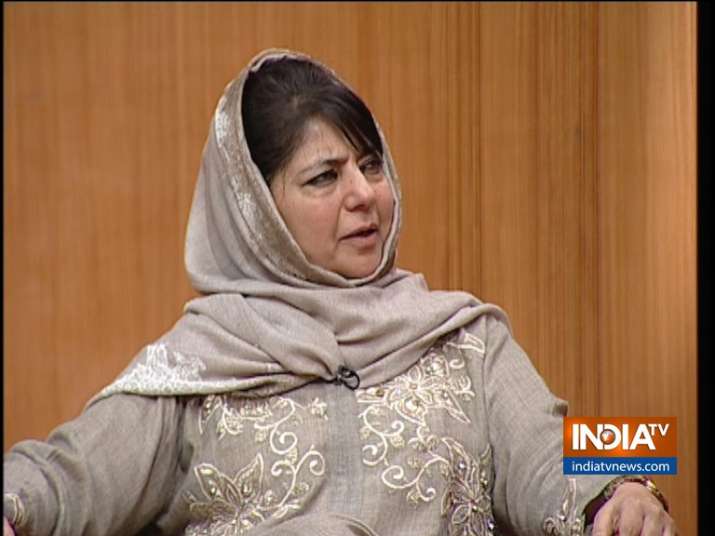 Former Jammu and Kashmir Chief Minister Mehbooba Mufti has said that Pakistan must take action against dreaded terror outfits and its heads, against whom India has submitted multiple evidence. Mufti, while answering a volley of questions from India TV Chairman and Editor-in-Chief Rajat Sharma in his show "Aap Ki Adalat", also said there was sureshot involvement of Pakistan in terror activities in India. 
"If Pakistan had enough control over terrorists, they would have acted against them first as people die everyday in frequent attacks in their country too," Mufti said. 
"Why are terrorist attacks happening in Pakistan? Why are people losing lives? Why did 150 children die in a school? Do you think Pakistan has entire control? If they had control, there would have been no terror acts in Pakistan. They face more terror acts than India," the Peoples Democratic Party (PDP) chief added. 
Also Read | Mehbooba Mufti in Aap Ki Adalat: 'Dialogue with Pakistan must for permanent solution'
Mufti also said action must be taken against Hafiz Saeed, Jaish-e-Mohammed, against whom India has given evidences. 
"If we've given them evidences, then they must go to court and take action," Mehbooba said during the hour-long show. 
Mehbooba further agreed that there was Pakistan's involvement in terror activities in India, but claimed "it has agreement of people of Jammu and Kashmir too."
Further explaining her statement, Mehbooba said: "Why do people of Jammu and Kashmir want azadi, why do they want to go with Pakistan...we need to find a solution."
Mehbooba also advocated dialogue as a permanent solution to end bloodshed in Jammu and Kashmir. "We will fight war from here, they will fight from there and kill our people...we will kill their people. This might help political parties get votes, but attacks would continue even then," Mufti said during Aap Ki Adalat. "If we want to end bloodshed, then dialogue is a must because we need to find a full and final solution to the issue," she added. 
Mehbooba's comments come in the backdrop of the deadly Pulwama terror attack that claimed lives of 40 CRPF personnel in Jammu and Kashmir. It was on February 14 when a suicide bomber rammed an explosive-laden vehicle into a CRPF bus. The carnage triggered anger in the country, with India taking major decisions against Pakistan to build pressure through various means on the neighbouring country.
Ruling out war, Mehbooba said: "India's strength lies in its brotherhood, secularism and democracy. But at the same time, we shouldn't think of war because we know it will cause casualties in both India and Pakistan."
WATCH VIDEO: Pakistan must take action against Hafiz Saeed, Jaish-e-Mohammed, says Mehbooba Mufti in Aap Ki Adalat
FULL VIDEO: