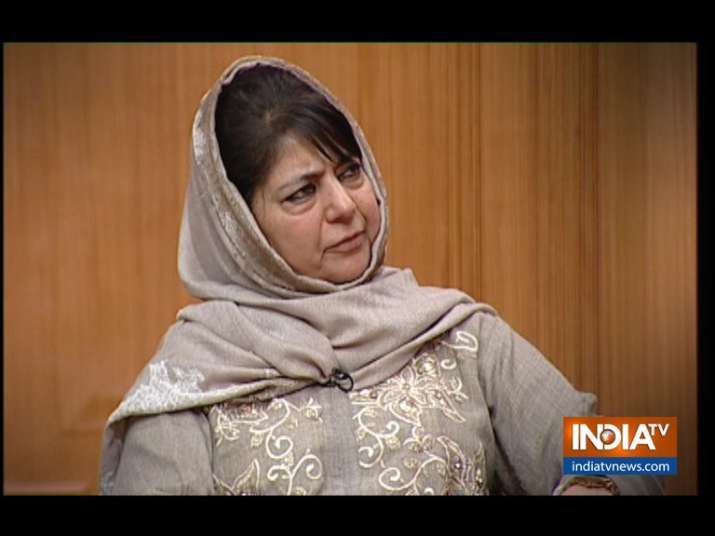 Amid severe tensions between India and Pakistan, former Jammu and Kashmir Chief Minister Mehbooba Mufti said dialogue is a must for permanent solution to end bloodshed in the region. Mufti, who was responding to a volley of questions from India TV Chairman and Editor-in-Chief Rajat Sharma in his show "Aap Ki Adalat", also said that India shouldn't talk of war as it will inflict casualties on both the sides. 
"We will fight war from here, they will fight from there and kill our people...we will kill their people. This might help political parties get votes, but attacks would continue even then," Mufti said during Aap Ki Adalat. 
"If we want to end bloodshed, then dialogue is a must because we need to find a full and final solution to the issue," she added. 
Mehbooba's comments come in the backdrop of the deadly Pulwama terror attack that claimed lives of 40 CRPF personnel in Jammu and Kashmir. It was on February 14 when a suicide bomber rammed an explosive-laden vehicle into a CRPF bus. The carnage triggered anger in the country, with India taking major decisions against Pakistan to build pressure through various means on the neighbouring country.
Ruling out war, Mehbooba said: "India's strength lies in its brotherhood, secularism and democracy. But at the same time, we shouldn't think of war because we know it will cause casualties in both India and Pakistan."
The former chief minister further agreed that Pakistan had involvement in terror activities in Jammu and Kashmir, but there was a twist. 
"Definitely there is Pakistani involvement, but it happens with the agreement of people of Jammu and Kashmir somehow," she said. 
"Why do people of Jammu and Kashmir want azadi, why do they want to go with Pakistan...we need to find a solution," Mufti added. 
WATCH PROMO: Mehbooba Mufti in Aap Ki Adalat (Full Episode on Saturday at 10 PM)