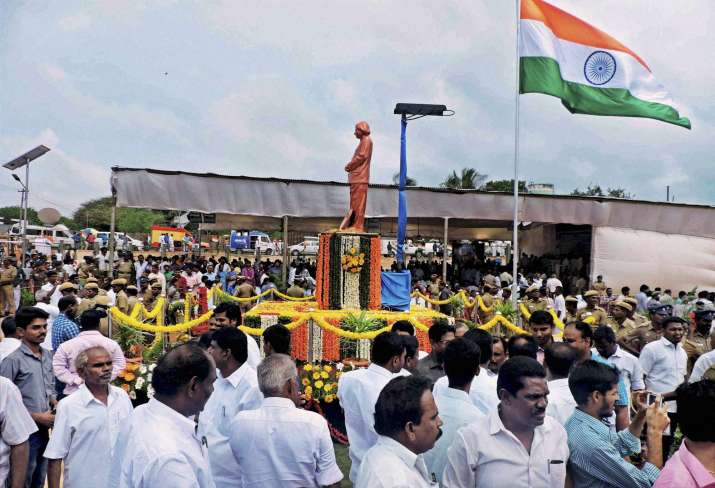 Terming the unveiling of a statue of former President A P J Abdul Kalam at Rameswaram today as "unIslamic", a body of Muslim clerics said that most local members of the community stayed away from the function.
Asserting that they had great respect for the former president, office-bearers of the Ramanathapuram District Jamaathula Ulema Council said statue for a dead person "is unIslamic and against Islamic beliefs".
In a statement, Council President Habibullah Hazarath and Secretary Abdur Rahman said "We strongly condemn the installation of the statue."
The ulemas, however, said they had only expressed verbal objection and didn't want to hold any demonstration or agitation against the function held at Peikarumbu, where Kalam was laid to rest last year, on the occasion of his first death anniversary today.
The statue unveiling ceremony was boycotted by most of the Muslims of Rameswaram island, the ulemas claimed. The function was, however, attended by Kalam's immediate family members among others.
The council's high-level meeting had on Saturday discussed the issue and opposed the statue installation.
Union ministers Venkaiah Naidu and Defence Minister Manohar Parrikar today unveiled a life-size statue of former president Dr APJ Abdul Kalam at Peikarumbu here on Wednesday. Today is the first death anniversary of the former president.
However, the man that India has so much love and respect for, today lies neglected not too far from his life-size statue that was unveiled today. While Naidu and Parrikar today laid the foundation stone for a national memorial for the 'Missile man' of India, the development has perhaps taken too long a time to come.
Kalam's grave has been lying on a site which has all but a tin roof, littered with dogs defecating around it. The matter has drawn attention for months now, with the issue even being raised in Parliament.
APJM Maraikayar, Kalam's elder brother, launched an online signature campaign to seek people's help for the speedy construction of a memorial for Kalam.