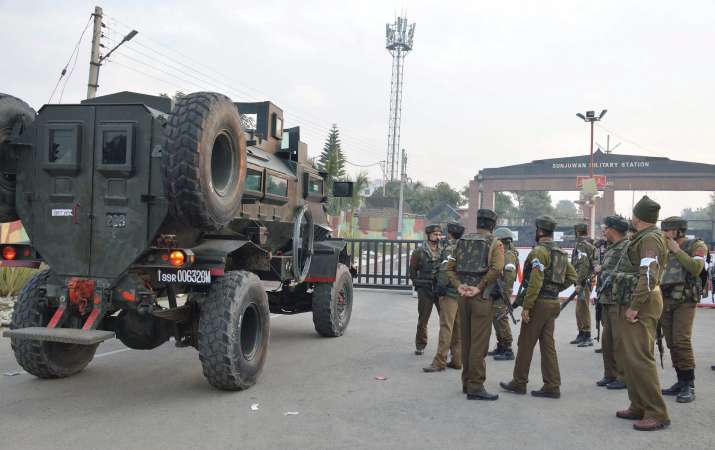 The five Indian Army soldiers laid their lives to avert a major terrorist attack on the Army residential area in Jammu on Saturday and Sunday. According to intelligence sources, Pakistan based terror group Jaish-e-Mohammad had allied with Hizbul Mujahideen to orchestrate a Peshawar-like massacre in camp's Kendriya Vidyalaya. 
On 16 December 2014, six gunmen affiliated with the Tehrik-i-Taliban (TTP) conducted a terrorist attack on the Army Public School in the northwestern Pakistani city of Peshawar. They entered the school and opened fire on school staff and children, killing 149 people including 132 schoolchildren, ranging between eight and eighteen years of age.
Intelligence sources have revealed that the terrorist group, led by designated global terrorist Masood Azhar, was planning a similar attack in Jammu. But the heinous plans were thwarted by the bravery of Indian soldiers, who took bullets to shield women and children fleeing from the camp. 
A group of heavily armed Jaish-e-Mohammad terrorists had struck the sprawling camp of the 36 brigade of Jammu and Kashmir Light Infantry early yesterday, triggering a gun battle.
Subedar Madanlal Chowdhary and Havildar Habibullah Quereshi, who attained martyrdom yesterday, were both shot while protecting children from gunshots. 
The toll of the terrorist attack on the camp rose to six with the deaths of three more Army personnel and a civilian even as the operation to flush out the JeM militants entered the second day today.  
The civilian causality was the father of an Army personnel. Among 11 injured were a pregnant woman who went into labour after being hit by a bullet and a young girl who was visiting her father during school break.
Army officials have said that even as 150 families were taken to safety before the gun battle began, the evacuation of family quarters was still underway. 
He said a number of families were still there and the Army's aim was to ensure their safety.
The army has gunned down four terrorists and the operation is believed to be in its last stages. 
This is a developing story. Watch this space for updates.