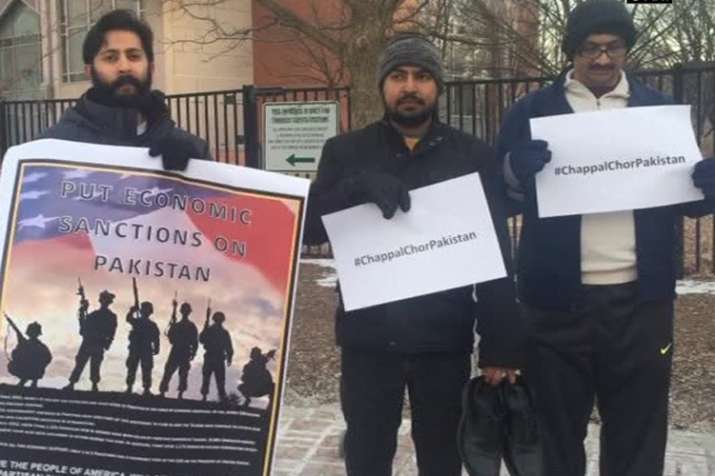 Condemning the ill-treatment meted out to mother and sister of Indian death row prisoner Kulbhushan Jadhav during the December 25 meeting in Islamabad, a group of Indian-Americans and Balochs protested outside the Pakistani embassy in Washington DC with symbolic shoes. 
In the protest named 'Chappal Chor Pakistan', protestors donated used shoes to the embassy saying that 'protest is in solidarity with Jadhav's family'.
Authorities in Islamabad humiliated Jadhav's wife and mother on their Christmas day meeting with him. They even confiscated the footwear of Jadhav's wife claiming, alleging that it had a camera and a chip in it. 
The protesting Pakistanis, who are exiles from the restive Balochistan province of their country, were protesting the same issue, to draw attention to how Balochis are treated in their country. 
"When they stole the chappal of a woman (Jadhav's wife) who was in distress, I hope they can use these also," said a protestor, pointing to the use show 'donated' to the embassy. 
"I want to say one thing- Pakistan ka matlab kya? Amreeka (America) se dollar la, Hindustan ke joote kha! (What does Pakistan stand for? Take dollars from America and face the wrath of India),"the protester added.
Another protestor said that Pakistan's narrow-mindedness has been exposed from the way it treated Jadhav's family.
"Policy makers and people here need to understand that Pakistan as a whole is also being run by narrow-minded mentality," he added.
Tearing into Pakistan for humiliating Jadhav's mother and wife in Pakistan, External Affairs Minister Sushma Swaraj had said that the meeting lacked "humanity" and "goodwill", and accused Islamabad of conducting it as a "propaganda exercise" and "an opportunity to exploit the situation".  
Addressing the Upper House of Parliament, Swaraj condemned the way the Pakistani authorities allowed the meeting at the Foreign Office in Islamabad and asked them to change their clothes and shoes, and remove bangles and even their "mangalsutras".